Editors Note, rather than go back and fix ALL the numbers of ALL the Happy Trails posts, please note that while I started counting down from #207, I neglected to include two numbers who should be much higher--South Sudan (who is a FIFA Member but didn't exist when qualifying spots were drawn) and Mauritania who just slipped my mind. So we'll pick up our countdown of eliminated nations at 119.
The summer would be the ideal time to have a bunch of World Cup Qualifiers, and indeed, the last three weeks have seen action across the planet from Sydney, Australia to Sandy, Utah. But with all that exciting, amazing action, there's also a lot of disappointing, soul-crushing defeat.
So let's say farewell to those teams who saw their dreams die. And, in an effort to lessen the number of teams I have to write about when qualifying concludes in November, I'll include teams eliminated in regions that still have matches left. As part of my on going war against European-entitlement, I'll include UEFA teams first (since they've played the fewest rounds) and teams in their second or fourth rounds later on.
#119--Ciao, San Marino
Why They Lost:
You mean besides the fact that they have a smaller population than Butte? Probably the fact that they have 1 win in 118 national team matches.
What We'll Miss:
Europe's WIBD contender doesn't have a whole lot to hang their hat on...but they do have an Olympic Stadium! No...wait...it's just a high school stadium
#118--Farvel, Faroe Islands
Why They Lost:
Largely because they are stuck playing Kazakhstan (2-0-0 all time against them) at the end of qualification, thereby denying them any chance to build momentum.
What We'll Miss:
T
he opportunity to learn exactly how to type all the different accented o's in

Fróði Benjaminsen or

Hans Jørgensen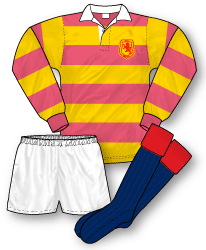 #117-- Tioraidh, Scotland
Why They Lost:
To put it simply: Scottish football has fallen on
hard times
. Maybe I'm not cheering hard enough. Maybe there's too much upheaval and inconsistency in the management. Maybe the Tartan Army's gone too soft. Maybe none of the best athletes are going to football, maybe they need a better training program, a better league. Or maybe we just all need to drink some more...yeah, that'll make it better.
What We'll Miss:
Way back in the day, Scotland wore what they called "the Rosebury colors". Last worn 60 years ago, it's high time for a revival, don't you think?
#116 Fo Tuma Du, The Gambia
Why They Lost:
Back to back three-nil defeats at the hands of Ivory Coast crushed their spirits and their goal differential.

What We'll Miss:
Brazil nuts are one of their major exports! Think of the tariff wars had they made the tournament and brought their Brazil nuts to Brazil...home of the nut itself!! (Still you can see three national team players: Sanna Nyassi, Abdoulie Mansally, and Mamdou Dansou ply their trade in the MLS)
#115 Lesali Sesihamba, Zimbabwe
The chicken would be a better Preisdent
than Robert Mugabe.
Why They Lost:
It might be the chronically under experienced side (18 Caps is the most for anyone on the current national team roster). Or it might be because Egypt and Guinea are too strong a set of opponents. But I'm going to say it's because Robert Mugabe's a total knob who has driven his country into the depths of hyper-inflation, human rights abuses and despotic tyranny, lining his own pockets while citizens (including footballers) suffer. Yup. I blame Robert Mugabe. Why? (Because he's a tool and I have the freedom to say so...don't like it Bobby? Come and get me...
psst, Morgan Transveri...then you can take power and hold free elections! It's fool proof!
)
What We'll Miss:
More Mugabe-bashing, plus the chance to analyze if Defender Felix Chindungwe's form will translate to his home team: Chicken Inn FC!
#114 Tsamayng Hantle Lesotho
Why They Lost:
As we said in our
profile of Lesotho
there's not a whole lot of veteran presence to guide and support the young talents like Litsepe Marabe....also ceding 7 goals to Ghana really didn't help.

What We'll Miss:
The "Well-I'll-Be-Darned" Minnow to watch for this round, the Crocodiles of Lesotho are yet another cinderella story gone awry. Then again...if a bunch of singing dancing mice helped Lesotho make the world cup, FIFA would probably investigate.
#113 M'asselema, Sudan
Saif Eldin Ali Maswai
Cocking an eyebrow at FIFA
rules like a boss
Why They Lost:
In their second match, Sudan fielded Saif Eldin Ali Maswai and beat Zambia 2-0...however Mr. Ali-Maswai was ineligible to play (no idea why) so the result was reversed, Sudan sank to the bottom of the standings and hasn't risen again (
equally intriguing, Zambia has a one point edge over Ghana--my adopted African home--and may eliminate the 2010 Quarterfinalists based on Sudan's misstake
)
What We'll Miss:
It would have been nice for the war-torn region of Africa to have a little joy on the pitch...but it would have made President/Chronic-Human-Rights-Abuser Omar Al-Bashir happy too...so...they can deal with the disappointment
#112 Adeus, Mozambique
Why They Lost:
Os Mambas don't have quite as much of an international presence as their fellow fellow former colonies (Brazil and Angola), maybe midfielder Telhino can rouse his fellow U-25s into a stronger cohort

What We'll Miss:
Crazy big scrabble points when using "Mozambique" (two 10 point letters and long enough to hit at least one double word score? SWEET)
#111 Murabeho, Rwanda
Why They Lost:
Rwanda is split between two generations the old, experienced hands who've been localized players for the past decade or so, and the young up-and-comers who led the Wasps to the U-17 World Cup two years ago, and have been snatched up by clubs in Turkey, Belgium, France and England. This cup was likely preparation to pass off the torch to what may be a coming golden generation in Rwanda.
What We'll Miss:
Seriously, one of the greatest most inspiring football stories in Africa in the last decade. Children of militia members and children of refugees playing alongside each other for their country. That's cool.
#110 Sai Watarana, Niger
Amadou Moutari
Why They Lost:
The Menas were rather ineffective, scoring one goal in five matches. Their point totals are artificially inflated by an awarded victory over Gabon (3-0), take that away and they're -9.

What We'll Miss:
A recent run of success in Nations' Cups makes Niger look like a rising talent, particularly midfielder Amadou Moutari, who at 19 is already on board with Le Mans in the French Ligue 1.
#109 Gue Ngozi, Central African Republic
Why They Lost:
The Wild Beasts started out strong with a two-nil win over Botswana and then collapsed, dropping four straight matches to Ethiopia, South Africa and Botswana again.

What We'll Miss:
Speaking of Le Mans and talented African athletes, the squad that nurtured Didier Drogba has two CAR players on their main squad: Hilaire Momi and Fernander Kassai...if you want a glimpse of Africa's talent...maybe we should just all watch Le Mans
#108 Kwaherini, Kenya
Why They Lost:
For the Harambee Stars it was famine or moderately portioned meal. Throughout qualification they would draw or lose but never got a shot to win. Only once did they have the lead in a match (against the Nigerian Super Eagles), but taking the lead and keeping it were two different things.

What We'll Miss:
The Harambee spirit of Kenya is pretty much the soul of fair play and decency. Of course I don't think Spain's going to change their motto to "everyone for themselves"...so we'll just cheer fair play abstractly rather than specifically.
#107 Later, Liberia
Why They Lost: George Weah continues to stubbornly refuse attempts at a comeback. Come on, Georgie boy! You're just 46!

What We'll Miss: Awkward conversations between a triumphantly returning George Weah and political rival/Nobel prize winning president Ellen Johnson Sirleaf
#106 A bientot, Togo
Why They Lost: Emmanuel Adebayor is not George Weah.
What We'll Miss: Imagining a band called Adebayor and the Pips.
Eat Your Heart out Expos
#105 Bo yi bo wa, Benin
Why They Lost:
It's a good idea to stay loose and fresh between national team matches (hence Spain's dominance), but Benin only gets together when they have a qualifier to play. A 9 month lay-off between a draw with Rwanda and two tilts with Algeria might not have been the best idea.
What We'll Miss:
The classy old school 70's federation logo that combines letters and ball into one cohesive whole: like the old Montreal Expos, only still in existence
I should be a coach...
#104 Enda Nawa, Angola
Why They Lost:
Like the aforementioned Harambee Stars, the Sable Antelopes could not find the finishing stroke to triumph in matches, only to earn draws in them...maybe more time playing Mortal Kombat would help...
What We'll Miss:
The end of Angola's golden generation that took them to the World Cup in Germany. 8 years on, most of the young guns are nearing retirement, and four years from now they DEFINITELY will be close to done.
#103 Nangalapo Nawa, Namibia
Why They Lost:
The Namibians squandered their chance to play spoiler in group F. With big matches against Malawi and Nigeria these past two weeks they could only muster a pair of draws. Quite a shame

What We'll Miss:
The surprisingly minimalist Namibian style. The modest logo (a sun with a soccerball), the simple/honest slogan (Bringing People's Game to People), the nickname (Brave Warriors). Kind of a change of pace from all the other stuff out there.
Teodoro Obiang imprisons
dissidents...and his smile
#102 Magha, Equatorial Guinea
Why They Lost:
Group B was a case of Tunisia and everybody else. The Nzalang Nacional couldn't put together much of anything away from the friendly confines Nueva Estadio de Malabo, and even there it was just one goal wins.

What We'll Miss:
Adding Teodoro Obiang to our list of dictators we like to make fun of....even though he's apparently an ally.
#101 Nain Dat, Sierra Leone
Why They Lost:
The little known Kanye West Jinx, wherein any nation called out in a Kanye West song is doomed to 20 years of failure...

What We'll Miss:
Hearing national team players swap stories of their club teams (the squad is flung from Kansas City to Tajikistand and from Sweden to Cyprus and Ghana to China).
#100 Tutaonana, Tanzania
Why They Lost:
Not being able to play every match at home put a definite crimp in the Taifa Stars game plan (they won two matches at home and dropped every thing on the road)

What We'll Miss:
Forward Mrishio Ngassa is easily the lion of the Tanzanian side. At just 24 he has 21 goals in 74 caps. Fingers crossed for his continued success.
#99 Tikala Milamu, Congo DR
Why They Lost:
A three match goalless drought in this years qualifying matches has been a little disappointing for the Leopards whose three points helped but didn't give them a real shot at progression.

What We'll Miss:
The chance to use world cup qualifiers as a means to effect a cease fire in a perpetually war torn area....oh and to bring up Mobutu Sese Seko...the most amusingly named dictator of all time.
#98 Khanbiafo, Mali
Why They Lost:
Inability to defend home turf. Despite two big wins on the road in Rwanda and at home against Algeria, they could only eke out draws against bottom feeders Benin and Rwanda at home.

What We'll Miss:
Arguably the best mix of experienced talent and young up-and-comers in this batch of eliminated teams. The recent national team debuts of four U-25 talents based in England, France and Italy bodes well (as does the nurturing forces of 30 year old talents in the same leagues)
Great outfit for Morocco's heat
#97 Lla yhennik, Morocco
Why They Lost:
Remember when Morocco made 3 out of four world cups from '86 to '98...yeah, they do too...but to paraphrase Rick Pitino: "Mustapha Hadji isn't walking out here folks, Nourradine Naybet's not gonna walk through that door..."

What We'll Miss:
Dropping the team nickname that seems at once epic and Ayn Randian "The Lions of Atlas"
#96 Ungesege, Guinea
Why They Lost:
The National Elephants were head and shoulders above two other teams in their group. Controlling pretty much everything against Zimbabwe and managing points in both matches against Mozambique. But...well...Egypt dominated everyone, winning every one of their games.

What We'll Miss:
After 4 attempted/completed coups since 2008 it seemed like there might be some good news for Guinea this year...fingers cross we can talk about more positive results in future

#95 'Illa-liqaa, Lebanon
Ramez Dayoub...we were happy too
(Yahoo images)
Why They Lost:
Terminally under-ranked, the mighty cedars of Lebanon soldiered their way through qualifying across Asia, from Bangladesh through Kuwait and UAE and into the last stage of qualifying. And while a 3-0 blemish against South Korea marred an otherwise strong first half of the campaign (that took them primarily on the road) losing to Qatar, Uzbekistan and finally plummeting to a 4-0 to an Iranian team they had beaten 9 months before.

What We'll Miss:
A truly great story that was our
first Minnow-to-Watch
to
keep us watching
.

#94 Fiiman Illaah, Iraq
Why They Lost:
It was likely a little much to ask the Lions of Mesopotamia to beat Japan
and
Australia, but initial draws with Jordan and Oman held a promising possibility, just beat them in your second legs and you would have the third spot sewn up. It worked against Jordan...not so much against Oman.

What We'll Miss: It might be nice to hear "O Victorious Baghdad" again...a nice tune you can dance to!
Always remains High, O Victorious Baghdad, (تضلي دايما فوق، منصورة يا بغداد)
And to see your eternal Glory, O Victorious Baghdad. (ونشوف عزج دوم، منصورة يا بغداد)
O Victorious Baghdad, O Victorious Baghdad, (منصورة يا بغداد، منصورة يا بغداد)

#93 Salaam, Qatar
Why They Lost: The Maroon were perpetually forced to play teams that were not Lebanon. If
they could just keep playing the Cedars they would still be undefeated...ah well.

What We'll Miss:
Not much, with Qatar due to host the World Cup in 9 years, we're well assured of many, many, MANY more jokes at their expense in the decade to come.

#92 Allah yisallimak, Oman
Why They Lost:
The Red Warriors were in prime position, needing a draw, just a draw, in Jordan and they would have third place all to themselves. The first half fit the bill, until Ahmed Hayel Ibrahim spoiled the party in the 57th minute to give Jordan the win and end Oman's dream.
What We'll Miss:
Mocking international ruiner of a manager: Paul Le Guen...who will be the lucky team foiled by him next? Honduras? Austria? We're dying to know!
With that it's Happy Trails to all, with hopefully a few more posts between now and the next round of eliminated sucka-dogs in September.