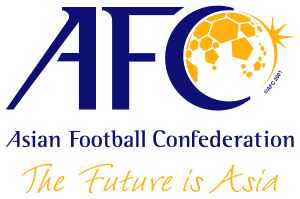 The Asian Football Confederation represents two major components of the modern game. On one hand there's a fast growing middle-class that is eager for entertainment, offering a big source of income to the powers that be. On the other hand there's a number of parts of the region who rank football as second or third in the list of favorite sports and leaves stadiums half-full for major competitions (see the recent Asian Cup in Australia) while leaving strange traces of corruption in its wake (see Qatar's triumph in the bidding for the 2022 World Cup). Like the logo says, the future is Asia...and the present also.
Still, Asia's the one confederation outside of Europe and South America to produce a semi-finalist in the modern World Cup Era (South Korea 2002). So their qualifying path is intriguing to say the least. For the 2018 Cup in Russia all 46 Asian members will be participating.
The competition started with
Round 1
when the 12 lowest seeded teams on the continent squared off qualifying ties in March of 2015. It was a great opportunity for less experienced nations to add a notch of experience on to their belt, and in the case of Sri Lanka to begin four years of ignominy after being ousted by the bottom ranked team in the whole danged world
The Round 1 Winners (and losers) were:
India (d. Nepal)
Yemen v. Pakistan (to be determined March 23rd)
Timor Leste (d. Mongolia)
Cambodia (d. Macau)
Chinese Taipei (d. Brunei)
Bhutan (d. Sri Lanka)
After a month of feeling like Kings of the Universe, these winners will come crashing back down to earth when
Round 2
throws every Asian team into a 40 team round robin (and somewhere the supporters of a 40 Team World Cup like Michel Platini just got a little tingly) with 8 groups of 4.
Round 2 Matchups Groups will be Announced April 14th in Malaysia
Win your group (or finish in the top half of 2nd place finishers) and you move on to Round 3. Everybody else (except the 5 worst 5th place finishers) gets a crack at the Asian Cup Qualification. That third round will include two groups of six with the top two in each going to the World Cup, and the two third place finishers facing off for a playoff spot (
assuming UEFA is willing to give Asia a shot at a playoff
).
Round 3 will begin in September 2016
Round 4 Playoff will begin (*assuming FIFA gives them a playoff spot) in October 2017
With such a huge portion of the World's population (and football fans) in Asia, it's an especially arduous road to a far off and distant reward. But every journey has to start somewhere.
If you want to learn more about Asian Football, qualifying and all manner of other things, check out our AFC tag on any and every post. Or just click t
his handy link
.