With this summer's confederation cups wrapped up, International competition is about ready to refocus on qualification for the 2018 World Cup. Most people won't pay much attention to these matches for another two years...but those people aren't crazy Montanans (thankfully, or I'd have no niche market at all).
Since the qualifying draws were held two weeks ago in Russia, I've been positively deliberate in creating these predictions (oh, who am I kidding, I made the predictions on the day and only just took the time to write it).
We'll start our predictions in the Western Hemisphere with predictions for rounds three and four of CONCACAF (which will be wrapped up next year) and the single round of CONMEBOL (which won't end until the fall of 2017).
CONCACAF ROUND 3
August 31st-September 15 2015
Matches:
Curacao V. El Salvador
Canada V. Belize
Grenada V. Haiti
Jamaica V. Nicaragua
St. Vincent and the Grenadines V. Aruba
Antigua and Barbuda V. Guatemala
The Favorites:
In CONCACAF the safest way to predict things is to count on the higher ranked teams moving on, chalk talks in North America, with the lone possible exception at matches in Central America. Haiti's recent form (including a game performance against the US and a draw against China--in China) has served them well enough to make them a heavy favorite over Grenada, and Jamaica's Gold Cup Silver Medal and Caribbean Cup victory certainly gives them momentum over Nicaragua. This draw also plays to those groups with Guatemala, El Salvador and Canada all facing minnows both of size and of history.
Some would say I cheer for McCaulay
and Belize because I like to mock Canada...
those people are right.
The Darkhorses: The most prolific scorer in recent CONCACAF qualifier history is Deon McCaulay who Minnesota fans may know best from a fourteen cap, three goal performance with the Atlanta Silverbacks last year. His 11 goals made him a co-golden boot winner from qualification alongside little known strikers Luis Suarez and Robin Van Persie. Some would point out that this is more a reflection of the paucity of CONCACAF defenses and the lack of a second option in Belize, but the truth is somewhat in between as McCaulay is indeed a force up top and a key difference maker for the Jaguars, even if it is about to set him up against a stout Canadian defense.
The only oddball match up is between underwhelming sides from St. Vincent and the Grenadines and Aruba where the "Vincy Heat" ceded 6 goals and needed away goals to pass Guyana and after a year off the field, Aruba came up goalless in two matches against Barbados, relying on Barbados disqualifying themselves to advance.
Qualifiers
El Salvador; Belize; Haiti; Jamaica; St. Vincent; Guatemala
CONCAF ROUND 4
November 2015-September 2016
Top Two Teams from Each Group Qualify for the Hexagon
GROUP A: Mexico, Honduras, El Salvador, Belize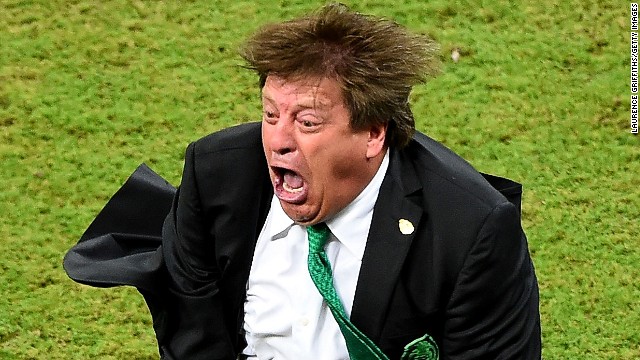 Never gets old...unless you're the
Mexican FA
Favorites: Despite the run-of-the-mill (by team Mexico standards) coaching drama, selection drama and performance anxiety, El Tri is still a team to beat especially within CONCACAF. The days of Giovanni Dos Santos and Javier Hernandez as the heralds of a supposed "Golden Generation" have faded, but they still represent some of the youngest talent on a veteran Mexico squad. As ever, the only thing that can get in Mexico's way, is Mexico.
Dark Horse: Though they are often the chosen whipping boys for beefier sides in North and South America, El Salvador boasts a young and growing squad that continues to cut its teeth in foreign leagues. My fellow Minnesotans may recognize Midfielders Dustin Corea (Edmonton), Richard Menjivar (Tampa Bay) and 24-year-old captain Andres Flores (New York Cosmos). "La Selecta" may be peaking at just the right time, particularly with a mishmash of a Honduras squad that has been erratic and best and dismal at worst since their qualification for last June's World Cup.
GROUP B: Costa Rica, Panama, Haiti, Jamaica
Favorite: Los Ticos set the world on fire with their quarterfinal appearance last summer, and nearly set themselves on fire to protest the match fixy unfortunate refereeing in their quarterfinal against Mexico. Truth be told the last three months have not been kind to Costa Rica, with scuffles against Panama, Colombia and Spain, and lackluster draws against Mexico, Jamaica and El Salvador. Still, the talent and recent success of the team makes them the team to beat in Group B.
Dark Horse: It's a shame really, because I can talk myself into all three of the other squads cruising through qualification in Group C and having a better than average chance in Group A. While I've talked before about Jamaica's defense being its new found key to success (a 370 minute goalless stretch during the Gold Cup was instrumental in their silver medal), and though Haiti is an intriguing squad of international vagabonds (two play in NASL, two in India, and two in Cyprus), I think it's worth noting the perennially, unregarded Panama squad that earned its third place finish at the 2015 Gold Cup--and maybe even more thanks to the aforementioned idiotic questionable refereeing of any game Mexico played in. In Panama's last six confederation tournaments they've made the semis in five and they had the pole position for World Cup Qualifying in 2013 until a miraculous bicycle kick pushed Mexico on. Only one of those three teams will hit the Hexagon, and until proven otherwise I think it's Panama.
The Panamaian Version of Morten Andersen
GROUP C: USA, Trinidad and Tobago, St Vincent/Grenadines, Guatemala
Favorite: U-S-A! U-S-A! U-S-A! Seriously, who cares if we can't figure out a back line, create consistent service or find a second goal scoring option behind an aging Clint Dempsey, we're America dad blast it and we will win this group!! U-S-A!! U-S-A!! Klinsmann for Chancellor!!
Also, a Guatemala win is a win for
70s FA logos!
Dark Horse: Despite the Soca Warriors recent offensive outburst (built largely through veteran striker Kenwyne Jones) their swings in play (they lost to Curacao in May but won their Gold Cup group), make them an ideal target for an upset minded squad. Enter Guatemala (La Furia Azul) who have balanced veteran strikers with a young and energetic midfield many of whom play together at CSD Comunicaciones, the dominant force in the Guatemalan league.
HEXAGON QUALIFIERS: Mexico, El Salvador, Costa Rica, Panama, USA, Guatemala
CONMEBOL
September 4th, 2015-October 10th 2017
South America does it simply: All ten teams play each other in a standard round-robin league style. The top four advance, fifth place takes on Oceania's best team (*HINT* IT'S NEW ZEALAND!) for a play-in (*HINT* THE SOUTH AMERICAN TEAM IS GOING TO SUCCEED!!)
Favorites: There's little point in rehashing how dominant Argentina has become, nor how quietly consistent Chile is and how ineffably promising Colombia appears. Those three squads, even with two years and 18 matches to play, look like easy qualifiers.
Yes, Enner, I'm excited about your chances too!
Dark Horse: The far bigger drama is whether any team can snipe a spot from the aging giants of the South American game: Brazil and Uruguay. While Dunga's Brazil has been a Bizarro-World version of the Selacao that the world came to know and fear (and even the methodical branding machine that made Ronaldo's crew so ubiquitous), Uruguay has seen their recent success pull a quiet nucleus farther apart on the world stage making reunions and consistency difficult. The recent Copa America showed just how easily local minnows can outperform their higher profile neighbors, with Paraguay, Bolivia and Peru each offering a surprise. But CONMEBOL qualifying isn't a sprint, it's a marathon, and the only squad that looks equipped at that task (despite their own lackluster performance in Chile this summer) is Ecuador. With both big game experience and a habit of consistently seeking out tougher competition for the next generation to compete with, Los Amarillos have a solid chance to surprise, particularly if players like Jonathan Gonzalez and Carlos Gruezo see greater opportunities in the upper levels of foreign leagues to build their confidence with the corps of a national team based in country.
PREDICTED AUTO QUALIFIERS: Argentina, Chile, Colombia, Brazil
PLAY-OFF TEAM: Ecuador