When this publishes I'll be somewhere in the outer most reaches of the Twin Cities Metro shouting for teenagers to run faster. A new gig as a cross-country coach will fill up my time for sure, but it will also remind me of just how much fun you can have when you're helping young people strive for a difficult goal.
Of course, I've got nothing on a national futbol team manager, who has to help young people strive for the difficult goal of being named to the best in the world rather than simply running three miles in less than 30 minutes.
In African qualifying there's just one game left this weekend, where the strong will survive for one more month and one more hurdle before the World Cup final. And while we frequently fixate on the players who make it happen, here's a tip of the cap to the coaches who are striving for the next stage and who we think (based on wikipedia profiles) has the best chance to get them in
Friday
Group D
James Akwasi Appiah has revived the Ghanaian tradition of local bred coaches after a decade under the iron thumbs of a squad of Serbians. The former national team/Asante Kotoko left back has had the Black Stars in fine form, as you might expect from one of Africa's premier footballing nations, but his work isn't done because of the pesky thorn that is Zambia.
"No those shorts don't
make you look fat,
c'mon boys they won't
hold our table!"
On Friday night (Friday morning stateside) in Kumasi Appiah's squad takes on the only team to beat them in qualifying this go-round: the Copper Bullet's of Zambia and their willingly French coach, Herve Renard. Renard's made much of his career in and about Africa following the path of his mentor Claude LeRoy (the grandaddy of all neo-colonial managers), but his recent bout of success with Zambia's impressive: guiding them to their first African Cup of Nations win in 2012, and the first defeat of Ghana in World Cup Qualifying since 2004.
With just one point between them Appiah has the edge here, knowing that any result at all will send them through. Renard will have to play aggressively and have his team attack (likely with captain/Black Star killer Christopher Katonga and young gun Emmanuel Mayuka) before racing back to defend, while Appiah can trust the quiet strength of Ghana's defense to guard themselves. It might not be Appiah's preferred style, but if it does the job, the entire Ghana nation will forgive him.
Saturday Afternoon
Group A
I'm admittedly biased. I got real giddy when I thought Ethiopia had qualified for the third round back in June. They were sunk into the last pot for the Round 2 draw, at the start of the cup they were 35th out of the 40 teams in Round 2. And they were about to qualify...until...they fielded Minyahil Teshome against Botswana...and had their victory over the Zebras stripped away, leaving the final set of games with everything to lose.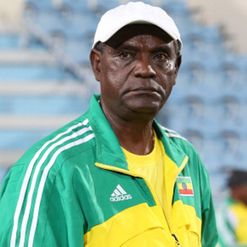 Sewnet knows you aren't doing
sit ups with proper form.
So, Sewnet Bishaw (Ethiopia's coach) deserves both a tonnage of credit and a pile of blame. Leave Teshome off the squad you're already in...but he's also responsible for getting the Walia Antelopes this far and for doing it all based on his training as a Phy Ed teacher. Honestly, how do you not root for this guy?
Sewnet's squad gets to face the Central African Republic, but they've done well on the road earning points both in South Africa (draw) and Botswana (the redacted victory), now if they beat bottom-feeding CAR they render the other game moot. Meanwhile Gordon Igesund's Bafana Bafana will be betting it all on a win over Stanley Tsoshane's Zebras of Botswana. The pair of former strikers will likely minimize defense in an attempt to out gun Ethiopia on goal differential, it remains to be seen if the prolific club man (Igesund) will out maneuver the 5-year incumbent (Tsoshane).
Group F
Saintfelt, probably asking: "Is that
Coaching job available?!?!"
As Group A draws to a close the ultimate showdown of ultimate destiny for Group F will kick off in Calabar, Nigeria. The Super Eagles have a 2 point and +1 goal gap against the Red Flames of Malawi. That should play perfectly into ex-National team defender Stephen Okechukwu Keshi's plan, and allow the Confederation Cup squad to rest a lot of men back in defense. I have no idea how Malawi's Tom Saintfelt will counter that, in large part because the itinerant Beligan never seems to stick around one place long enough to reflect a particular skill...heck....this will be his first (and possibly only) game coaching Malawi. But I'll hope he can earn his players support with a few trust falls and community building activities.
Group E
There's more complicated matters afoot in Group E (which gets under way 30 minutes after kickoff in Nigeria). Like Ethiopia, Congo is a big dreamer (emerging from Pot 4) on top of the group with 10 points and will be away to the bottom feeders (Niger). Meanwhile the middle teams (Burkina Faso and Gabon) have 8 and 7 points respectively and will square off in Oagudagu--home to the slightly advantaged Burkina Faso.
Quick Guess which coach this is!
Group E's coaches are a motley crew of European scamps. There's 52 year old Kamel Djabour who has done well with Congo in his first official placement as a head coach (wikipedia's vague on the details of his relationships with clubs in Benin and Mali--then again at 4 sentences it is 4 sentences longer than my own Wikipedia page). There's former Portuguese league star Paulo Duarte whose time at the head of Gabon's Golden Panthers has been relatively smooth, but will now have to face his old Burkina Faso squad whom he improved by saying "Marry a Burkiniabe get a free Starting Position!" (Note...not really, but I feel like I have to dramatize these player eligibility scandals). Finally, there's Burkina Faso's new man: Paul Put, who (following an undistinguished tenure with The Gambia) is attempting to salvage his career after a three-year ban for his part in a match-fixing scandal (notably, he was the only one who accepted any kind of punishment for it).
So, who do you root for? The older neophyte? The rule bending itinerant? Or the reformed match-fixer? Yeah...it's the underdog Congo again, isn't it?
Group B
What should you watch after your Saturday morning chores, with an easy to make deli sandwich in hand and the promise of a nap in the offing? Well...if you actually want to nap I'm sure there's a golf tournament somewhere. But if you want entertainment you might try to see if you can catch the showdown games for Group B and J
The last nation standing up to the promise of the Arab Spring: Tunisia gets to host Cape Verde Islands in Rades. The Blue Sharks are decided underdogs but have one big asset in coach Ulisses Indalecio Silva Antunes (Lucio to his friends), consistency. Antunes has been with Cape Verde since 2010, leaving the cushy gig of Air-Traffic controller for the public vilification of national team futbol coach. Cape Verde's gotten progressively better over time, but Tunisia has a two point lead and hasn't lost a match at home in over a year (they've only played at home twice...but still!).
It remains to be seen what Nabil Maaloul will do with the Eagles of Carthage, he's unbeaten since taking the reins in March, but has never managed a game this big for the national team side before. Chances are Tunisia plays a well structured, defensively minded game to solidify their lead in points and goals; but as long as air traffic controllers can morph into futbol managers, there's hope for Cape Verde.
Dream the dream Ulisses!
Group J
Wrapping up an absurdly busy day of African qualifiers is the Group J showdown between Senegal and Uganda...in Morocco. Why Morocco you ask? Well, apparently fans of the Lions of Teranga didn't feel like behaving themselves during ACN qualifiers last year so now they don't get to watch any games at all...so there! PBBBT!
Michel!! Vous etes mon
meilleur ami!! MEILLEUR!!
The Cranes of Uganda are in the unenviable position of having to win to stay alive, and having to do so with one of the recently fashionable, defensive minded, Serbian coaches: Milutin Sredojevic. Sredojevic was unceremoniously sacked by Rwanda in April having gotten them only one point in three matches, but he has already helped net Uganda six points through June qualifiers (courtesy of one early goal and a pile of defense against Liberia and two late goals against Angola). Those six points saw Uganda soar from bottom of the group to second ahead of the match against Senegal.
The Senegalese get French Midfield legend Alain Giresse whose old running-mate in Le Carre Magique, Michel Platini, may soon end up running FIFA. Giresse has Senegal gunning for their second Cup qualification ever (and first since the '02 Quarterfinalists). Though Senegal's just a point up on Uganda, the young and explosive side fits very nicely with Giresse's style making the road ahead that much tougher for Uganda
Sunday
Group I
There will also be plenty of matches on Sunday, mostly featuring the teams from groups C, G, and H where it's all been decided in favor of first-time manager Sabri Lamouchi's Ivory Coast, American exile Bob Bradly's Egypt and Bosnian survivor Vahid Halilhodžić's Algeria.
But there is one match worth keeping an eye on: Cameroon and Libya from Yaounde early on Sunday morning, and it's one that may effect the employment of two coaches heading in very different direction
Finke on eine hotten seaten!
Volker Finke, a German of some renown brought in to seal the deal for Cameroon has been underwhelming since taking over in May, losing at Togo and drawing at Kinshasa. Fortunately, thanks to Togo fielding an ineligible player, they were awarded a victory and pushed to the top of the table while Togo was knocked out. Still, this isn't what the Indomitable Lions were expecting and Finke's neck may be on the line.
The same holds true for Libya's
Abdulhafeedh Arbeesh, widely seen as a mere caretaker, Arbeesh has helped the Mediterranean Knights stay afloat in qualifying and they would be head of the table if not for Togo's ineligible player issue. A win will get Libya closer to qualifying for the World Cup than ever before, and despite reports of a new manager on the horizon, it would be hard to tell Arbeesh..."thanks for everything...now get out!"
The hardest thing about all of this is that no matter who wins this weekend, half of these managers will be stymied at the next level. Only 5 African teams will move on, and given the recent surge in success for localized African coaches it's hard not to hope that even more of them triumph than we might otherwise predict.
After the matches shake out on Sunday we'll bid a Happy Trails to those who are done and keep a weather eye out for the pairings for Round 3.