With only a few weeks left in the qualifying campaigns, lets pause for a second to recognize some of the teams that have fallen by the wayside, in their quest for the World Cup.
#59 Latumire, Albania
WOOO! We Love you Ismail!
Why they lost:
The Red and Black Eagles only won two games at home, drawing against Norway and losing to Iceland and Switzerland. For an cranky, insular, ex-cold-war rival, you'd think that protecting the home front would be a little more important for Albanians.
What we'll miss:
Our annual shout out to Ismail Kadare! Superb poet, perennial Nobel candidate, only Albanian we actually remember.
#58 Snakkes, Norway
Why they lost:
The golden age of Norwegian futbol is almost 20 years in the rear view mirror now. Desperate to improve things the National Federation brought back master manager, Egil Olsen, who helped guide the Norwegians to the Mondiale's in both the US and France. This time he got the team up to 11th in the world in 2011, but crashed out violently for the fourth straight time.
What we'll miss:
According to Wikipedia, Olsen has an encyclopedic knowledge of geographic trivia. Maybe we could have asked him to list the 12 longest isthmuses in the world.
#57 Tsedesutyun, Armenia
Why they lost:
Stunningly, shockingly, Armenia was alive in the race for a spot up until the moment Mario Balotelli scored a tying goal with just 14 minutes left in Naples. If Armenia had won that game they would have been in tremendous position to finish second and get a playoff spot in the play-in round. So if you want to blame Mario Balotelli for everything, (1) I assume you're an Italian citizen, (2) you can add the crushing of Armenian hopes and dreams to the pile.
What we'll miss:
At 24, Henrikh Mkhitaryan is already a vice-captain, has 12 goals in 40 matches, and is soaring up the lists of desirable prospects in Europe (from Borussia Dortmund to Liverpool).
#56 Zbogom, Bulgaria
Why they lost:
Coming in to the final match in second place in their group, The Lions were in the driver's seat looking for a playoff position. According to fans, they brought a serious attacking mentality against the Czech Republic to try getting a win, up their goal differential and get a playoff spot. Sadly the attacking mentality left the defense open and they lost 1-0. Ending their chances.
Stick it Krum-Bum
What we'll miss:
Continuing the quidditch shout outs we sent to the Peru national side--we have to assume that Viktor Krum would be a big supporter of the Bulgarian national side.
#55 Slan libh, Ireland
Why they lost:
Hard as it is for me (as a Scotsman) to say, it probably didn't have anything to do with Leprechauns, Guinness, or lousy whisky. But you have to admit, it's a pretty thin team after Robbie Keane and John O'Shea (both of whom are on the wrong side of 30)
What we'll miss:
The chance for Irish quidditch players to rub Viktor Krum's face in another humiliating defeat.
#54 Lehit, Israel
Why they lost:
Popular as futbol is in Israel, it usually places second next to the favorite past-time of "staying alive/keeping loved ones alive in a place that is constantly on the brink of war." Until they get their priorities straight, they'll continue to struggle. [
This moronic obliviousness to serious world issues is brought to you by ESPN, ESPN: minimizing important things in life since 1979
]
What we'll miss:
The musical magic that appears everytime you say Yossi Benayoun's name.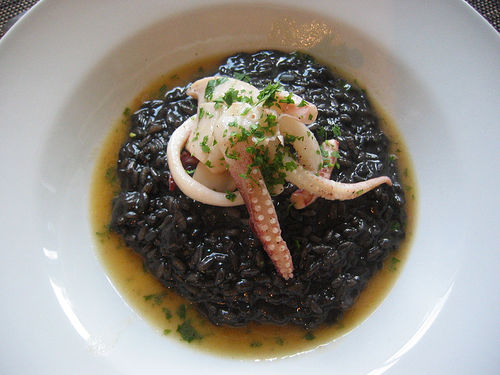 Anybody want a helping?
#53 Do Videnja, Montenegro
Why they lost:
For a while the brave falcons actually led their group over the Ukranians and English. But as all good things (including a traditional Montenegrin dinner of black risotto and cuttlefish), it was not to last. STUPID TRANSIENT NATURE OF LIFE!!
What we'll miss:
Trying to make black risotto and cuttlefish in honor of the Montenegrins.
The 5th 2010 Finalist Eliminated
#52 Zhivijo, Slovenia
Why they lost:
Coming off of their second world cup appearance in South Africa (and one where they very nearly slipped into the second round past the maddeningly indecisive American/English teams), hopes were high throughout Slovenia. Finishing behind upstarts Iceland has left them as cold as...well...Iceland. Notably, the National team dropped two vital matches at home in Stozice Stadium in Ljubljana, the second to aforementioned Iceland in front of just 6,000 fans. (Maybe hopes weren't that high)
Eat your heart out Christian Bale!
What we'll miss:
Samir Handanovic's goalkeeping, which apparently has inspired at least one person to see him as not the hero we want, but the hero we need.
#51 Ahoj, Czech Republic
Why they lost:
A lousy showing in September (with losses against Armenia at home and Italy) pretty much sealed the deal for the erstwhile champions of Eastern Europe. Now Peter Cech and Tomas Rosicky will have to spend their summer vacation drying their eyes with huge fistfuls of Premier league money.
What we'll miss:
The logo! This post's winner of "Coolest National Team Crest For an Eliminated Team.
#50 Hoskcacal, Turkey
Why they lost:
You could blame a young group of players or a cannibalistic qualification group or uncertainty this summer over national certainty due to Recep Tayyip Erdogan's increasingly authoritarian rule. But, I prefer to blame increasing immigration into Germany and a steep decline in Turkey being able to count on the best young Turkish talent. Thus the great ballet of geopolitical/economic exchange claims another victim.
What we'll miss:
The chance to recall the sepia toned glory days of Hakan Sukur and Turkey's miraculous 3rd place finish in 2002. You know...the olden days.
#49 Vislat, Hungary
Why they lost:
Malnourishment (ba-dum-ching! HUNGARY PUN!) Seriously though, no matter how close Hungary was, the 8-1 butt kicking it got at the hands of the Dutch on October 11th made it all irrelevant.
What we'll miss:
American announcers failing horribly at pronunciations of Balazs Dzsudzsak! [Bolage Jujak]
#48 Abe D'ehre, Austria
They're thawed for every home game
Why they lost:
It was an impressive campaign for "Das Team" who make up for the bland nickname with a balanced squad that plays in some of the top leagues in Europe. But taking only four points from the combination of Germany and Kazakhstan, while second place Sweden took seven definitely accounts for the third place finish
What we'll miss:
Pre-game, half-time and post-game performances by the Von Trapp family!
The 6th 2010 Finalist Eliminated
#47 Vi Ses, Denmark
Why they lost:
The Danes finished second in their group but came up short as the worst second place finisher from round 1, ending their chances of qualification. (If you want to nitpick, the loss at home against Armenia--4-0 no less--cut into their point totals and left them a point shy--had they won, Croatia would be in this spot).
What we'll miss:
A chance at a second interview with
Hamlet, Prince of Denmark
#46 Nos Vemos, Venezuela
Sorry Nicky, but you can't
out-crazy the crazy one.
Why they lost:
The Burgundy are the only South American nation to
never
qualify for the World Cup. Never. Not once. In history. Next in the ranks of continental ineptitude is Bolivia, and even though they have a -19 goal differential in their 6 matches, that is precisely 19 goals more than Venezuela has even dreamt of...because they lost, which is probably a direct result of NEVER WINNING!
What we'll miss:
President Nicolas Maduro's attempts to spin a sporting victory into an endorsement of socialist policies/The Ghost of Hugo Chavez haunting opposing goalies.
We like him for
fashion sense alone
#45 G'bye, Jamaica
Why they lost:
[Insert stereotypical assumption about Jamaican life here], or more likely there's the fact that Thoedore Whitmore made a better player (scoring a winning goal over Japan in 19998) than he did a manager (getting walloped in 5 straight Hexegonal qualifiers
What we'll miss:
Inspiring ourselves to greater feats and better writing with classic motivational scenes from
Cool Runnings
#44 Panama
Why they lost:
Despite a massive improvement in the quality of play by the Canal Men (including two semi-final appearances in the last two Gold Cups) they still were unable to get over the hump in World Cup Qualification with the glorious final goal by Raul Jiminez sealing their fate.
What we'll miss:
Attempting more palindromic sentences like "A man appears, reap Panama"(all sentences have to start with "A man...but still it's good fun"