This is my first team profile. Here's what to expect:
-Recent Cultural Contribution
Any on-field analysis will be kept to a bare minimum.
First up, from Group A: Uruguay
Uruguay will likely be the favorite in Group A for two sub-sets of the world's population: (1) Uruguayans; (2) American males age 13-29 accidentally tuning in to Uruguay's matches expecting to see "World's Strongest Man":
"Oh brah, I'm so gonna crush my deadlifts after we watch this."
"You won't crush shit, you homo. You R drinkin' Heinekien! Hey, what's this gay shit?"
"I dunno brah, looks like soccer."
/contemplative silence as all the bros watch the beautiful game for a few moments:
"LOL Dude, Uruguay looks like U R Gay!!"
"No brah, even better: Hey U! R U Gay? You are if you play for Uru-gay!!!"
"Change that shit to MTV, check to see if Jersey Shore is on."
Perhaps due to the potential for rapid word-play with its name, in 2007 Uruguay became the first South American country to legalize same sex civil unions.* Uruguay is the second smallest country in South America with one of the region's most stable economies and governments. Which is sort of like saying "Uruguay is one of the brightest students in remedial math." Actually, they're doing fine, and have the 47th highest standard of living in the world. After gaining independence from Spain, Brazil, and Argentina in a military Royal Rumble reffered to as the "Guerra Grande" (Razor Ramon was eliminated by a flying Uruguayan Drop-Kick) a large number of Spanish and Italian immigrants came to the country. Current estimates put the percentage of the population tracing their roots to Europe at around 80%.
Uruguay has earned a reputation for fantastic Asado: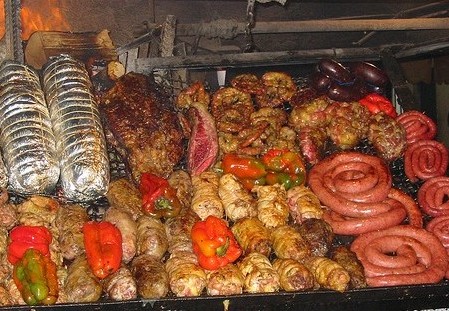 Yes please, four of those.
I think we can all agree that Uruguay's elevation of barbecue to art-form status is a Culinary Asset. Also, they are big on Dulce de Lece which, literally translated, means "Caramel Crack".
Group A opponents: France (6/11), RSA (6/16), Mexico (6/22).
Nicknames:
La Celeste
("The sky blues") and
Los
Charrúas

("The indigenous people of Uruguay"). I know which one I'm using.
Uruguay hosted and won the first ever world cup, in 1930. They won again in 1950. Two wins puts them in pretty rarefied air, but Uruguay's dominance was of a sport that doesn't much resemble the game played today. To put it another way, if Uruguay was an NCAA football team, they'd be Army.
Nevertheless, for a nation of only 3.3 million (500k less than Los Angeles) to even make the big dance out of the extremely competitive Conembol confederation is impressive in this day and age. Uruguay finished fifth in Conembol and had to beat Costa Rica of the Concacaf Confederation, in a home and away play-in series to earn their spot. Barring a surprising upset of France, or a classic home-cookin' loss to the RSA, to advance they will need to beat Mexico in what will likely be one of the most competitive final group games in the first stage. Of course, with a pair of strikers in Diego Forlan (Atl. Madrid) and Luis Suarez (Ajax) finishing likely won't be a problem. Do they play good defense? I don't know, they make mean barbecue, so they must be patient. That's probably a good sign.
Recent Cultural Contribution
Uruguay has given the world two prominent musicians recently: Jorge Drexler and Natalia Oriero. One seems to be a Latin American Jessica Simpson and the other is an Oscar-winning otolaryngologist who speaks fluent hebrew. You are free to guess which is which and to debate their artistic merits in the comments:
Thoughtfully composed after watching The Pianist!
Next up, from Group B: Nigeria.