With the club season about to kick off in earnest (notably in the Barclay's premiership which is the easiest league for Motnanans and other Americans to watch) I wanted to take a minute to review another Starting XI. This month, 11 players who will be on new teams in the Premiership this season and who will be trying to use that transfer spot to set themselves up for glory on an even bigger stage at next year's World Cup. (And because I feel like it, we'll run it as a 3-4-3 line up.)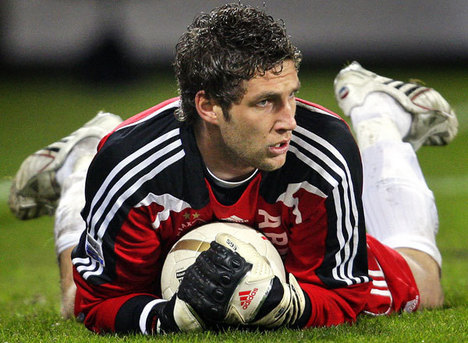 I. Marteen Stekelenburg (GK--Netherlands/Fulham)
Growing in to Edwin Van Der Saar's ginormous shoes is a bit of a tricky business, but Stekelenburg more than rose to the occasion in South Africa. Limiting world class opposition to four goals from the run of play over seven matches. After a long career with Ajax he had a pair of disappointing years with Roma (finishing 6th and 7th, while finishing middle of the table in Goals allowed). Coming to the Premiership, he'll hope for a stronger showing to set up a Dutch team that's very close to qualifying.
II. Fernando Amorebieta (D--Venezuela/Fulham)
Amorebieta is an unusual story. He nearly got a cap with La Furia Roja before joining his home land in Venezuela. With an impeccable sense of timing, he scored the lone goal in La Vinotino's first every qualifier win over L'Albiceleste [Argentina]. It could be a bit of a wrench going from Craven Cottage in London back and forth to South American qualifiers, and as a relatively inexperienced player he may not be asked to. But with Venezuela tied with Uruguay for fifth place, and matches coming up against the bottom three teams in the table could give them a great opportunity to try Fernando out before next summer--a summer he'd get to spend in Brazil if he's in form.
III. Dejan Lovren (D--Croatia/Southhampton)
Like Croatia itself, Lovren has been flying under the radar for a little while, particularly as his playing time has steaily decreased with Olympique Lyonnais (though he did see action in Europe). Meanwhile, the Croats have soared as high as third in the world and are guaranteed a spot in at least the playoffs (with Belgium cruising ahead of them, they may need it). Now with the Saints aspiring to stay clear of the relegation spots, Lovren's play ought to help steady a shaky defense.


IV. Razvan Rat (D--Romania/West Ham United)
Rat is the strongest stalwart in Romania's defense, and as the Tricolorii sit in third place of Group D, they're going to need some strong defense to have a shot at passing either Hungary or Holland. Luckily they'll be playing at home for 3 of their final 4 matches (and they'll be facing bottom feeders Turkey, Estonia and Andorra once each). If Rat can stand up to Premiership talent he'll easily stand up to those three countries.
V. Paulinhio (MF--Brazil/Tottenham)
Moving into the more high profile transfers, Paulinhio's squad is already booked into the World Cup (hosting it has its perks after all). With 17 caps and a stellar showing at this years Confederations Cup Paulinhio is pretty secure in his spot on the Finals squad...provided he avoids injury, and since he'll be playing for Tottenham and their accursed luck, that might take some doing.
VI. Jesus Navas (MF--Spain/Manchester City)
Speaking of Confederation Cup revelations (at least to the non-club-scene footie fan), Navas served as Spain's supersub during the tournament and was a instrumental in getting them into the finals (sure they got smoked by Brazil in the finals, but that's beside the point). Now with Man City, Navas has the chance to establish himself as a topflight midfielder in advance of La Furia Roja's title defense (assuming they can get in ahead of France)
VII. Emanuele Giaccherini (MF--Italy/Sunderland)
With Italy in good position to qualify ahead of Bulgaria in Group B, Giaccherini main goal will be to help the Black Cats stay in the first division (alongside fellow international additions Jozy Altidore [US] and David Molberg Kaarlson [Sweden]). As the only Confederations Cup cap winner to play outside of Italy, the more Giaccherini helps Sunderland, the more he helps himself stay in the starting line-up.
VIII. Aleksander Tonev (MF--Bulgaria/Aston Villa)
Bulgaria's fallen a long way since Hirsto Stoichkov's heroics saw them finish fourth in 1994, but they're back in contention this time around sitting at second in their group with four matches left to go. Tonev, who racked up a hat-trick against Malta earlier in qualifying, isn't yet a lock to be selected for the final squads, but shows a level of promise that other Bulgarian's haven't. If Tonev can help one group of Lions he'll be better positioned to help another. ('Cause they're both nicknamed the Lions, get it?)
IX. Wilfried Bony (F--Ivory Coast/Swansea)
Heir to the throne of Didier Drogba, Wilfried's move to the Welsh club puts him in position to match up with fellow Elephants strikers Aroune Kone (Everton) and Gervinho (Arsenal). Right now, Bony's young enough and inexperienced enough to rank as a fourth or fifth option up top (behind Kone, Gervinho, Solomon Kolou, and Drogba provided he's fit and has a pulse). Still, Bony's got three goals in qualifying and should have a shot at some action when Ivory Coast sets up its final qualifying home-and-away in October.
X. Stefan Jovetic (F--Montenegro/Manchester City)
Another addition to the Sky Blues (alongside Jesus Navas), Jovetic has a slightly more awkward position in the Premiership. Play well and he might be instrumental in this year's race for the title. Play well and he might well help Montenegro qualify for their first World Cup only 7 years after becoming an independent national side...of course, if that happens, he might leave England's national team on the outside looking in. (Keep an eye on the October 11th match at Wembley to see if he's a golden boy or a goat)
XI. Andre Schurrle (F--Germany/Chelsea)
Schurrle's youth and promise make him seem, for all the world, like the future of German striking. Of course the present of German striking is already pretty good (with Miroslav Klose, Lukas Podolski and Mario Gomez). Still, the chance to refine his skill in the best European League with one of the best European clubs gives Schurrle a great opportunity to position himself as a serious contender for a spot off the bench for a team that makes World Cup Semifinals with as much blase consistency as it makes loans to EU neighbors.
So there's the 11 men to keep an eye on as the premiership gets started this month. And with any luck, they'll be 11 to keep an eye on through next June as well.