Now that the matches are on like Donkey Kong, we want to keep our analyses and dumb jokes fresh. So every day we'll post a recap of the days events highlighting the positives and negatives on and off the pitch.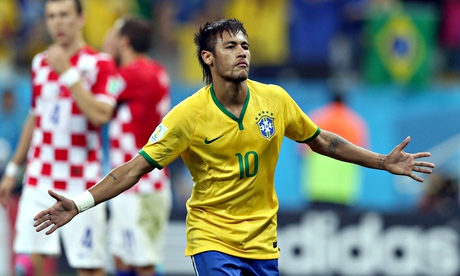 He's got the model pout on
On: Neymar
-- it's only been one match, but Neymar (the emo haired it boy of Brazilian futbol) was every bit as good as advertised. Darting, dribbling and (yes occasionally) diving. His brace was undeniably earned.
Off: Hulk--I was so amazed at the bulky striker's physique last summer that I was predisposed to see him as a superhuman. Another big match and another poor showing (perpetually a step behind the passes from Neymar, zero creativity on the left side), and I'm ready to shout Avenger's Assemble just to free up a starting spot for someone else.
50% Grabby/50% Flailing
On: Tenacious Croats
--I was fairly down on Croatia's chances--I think the travel schedule and the shell shock of a strong Brazilian squad in the first match was going to set them into a tailspin. Their game fighting spirit throughout the match proved me wrong and should serve them well--provided the Fred Flop doesn't psych them out.
Off: Finishing Croats--For all the whining about the now infamous "Fred Flop" Croatia had next to nothing going on offense for most of the game. One good cross turned into an own goal, and other than that they only put pressure on Julio Caesar in the last 20 minutes of the match. Srna and Lovren can stymie a lot of rivals, but they can't stop Samuel Eto'o AND run down the field to hit the winner.
On: British Pound--Clearly Premier League bosses are going in whole hog this transfer window--Rui Costa and Fabergas heading to Chelsea and mutterings that Arsne Wegner is ogling Mario Balotelli like a Bunga Bunga Buddy. The top tier of British squads must want to dethrone La Liga and the Bundesliga pretty badly.
Off: American conspiracy theorizing--
I was at first warmed by the knowledge that a local sports talk station devoted a solid 5 minutes to the opening match on my evening commute, but less heartened when I realized that most of it was being spent on blaming the Japanese official for a bad penalty call. To be sure, it wasn't great, but it was clear throughout the match that anything above the shoulders was getting called (and often carded)--for Lovren to put his hands on Fred's shoulders was risky enough, Fred's acting sealed the deal--but come on American's it's not the Zapruter film, it's the soccer equivalent of framing a curve ball on an ump's generous outside corner.
TODAY: Matches 2-4 Mexico/Cameroon; Spain/Netherlands; Chile/Australia
PSYCHIC PSIDNEY: Check my dog's predictions at
mackenzielowbudgetsports.tumblr.com;
he's 1 for 1 so far.