32: Au revoir, Cameroon
Why They Lost:
Between Samuel Eto'o holding back, and Alex Song popping off, Cameroon's got no one to blame but themselves. When your biggest pre-tournament warm up is a spat over payment, your priorities are clearly elsewhere.
What We'll Miss:
Eto'o's last stand and the chance to see the Indomitable Lions finally live up to the old accomplishments of Roger Milla.
31: Asiabi, Honduras
Why they Lost: Sure, Honduras wasn't very good to start with, but when you combine not being great with playing rough and rumbly at a tournament where breathing on a star the wrong way can get you carded and you've got a recipe for disaster.
What We'll Miss: The chance to point out Honduras as an example of how "tough" futbol can be to the haters in the world.
30: G'day, Australia
Why They Lost:
Australia seriously suffered from a lack of ten other Tim Cahills. Ten more Cahills and they might actually have a solid chance at getting a point.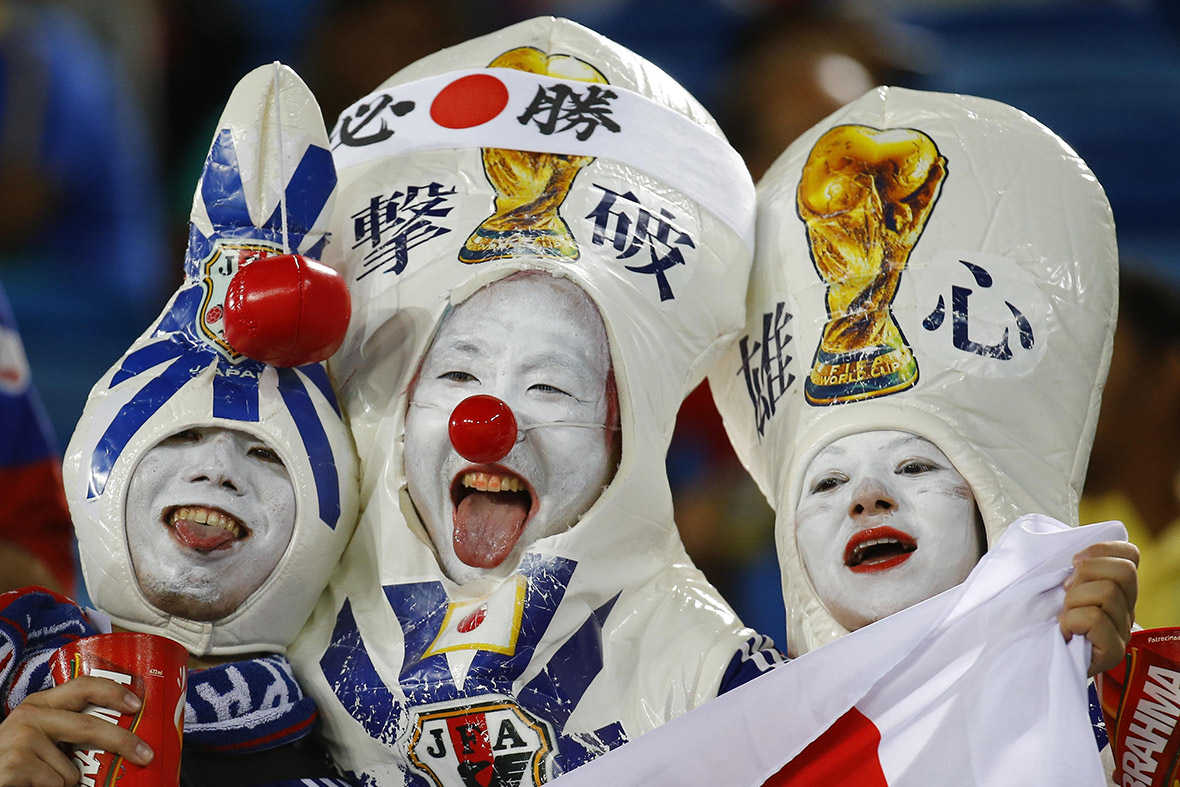 What We'll Miss:
Tim Cahill...oh wait, he'll be touring the country with the MLS...then probably just the adorable "Socceroo" love that guy.
29: Sayonara, Japan
Why They Lost:
Japan came out of the gates with one heckuva-a-half, taking the lead against a dangerous Ivory Coast team. After that everything came apart, losing to the Elephants, drawing with the Greeks and getting rocked by Colombia.
What We'll Miss:
We may not like thunderstix, but man, Japanese fans do a great job of dressing up like crazy people for the world cup.
28: Be Omide Didar, Iran
Why They Lost:
The shut down defense that carred Team Melli through the whole of qualification did not desert them when they got to Brazil, frustrating some of the best offenses from around the world until Bosnia finally broke through.
What We'll Miss:
Reza Goochanenjad and Alireza Hagighi, both talented on the pitch and posessors of kickass hairdo's
27: Annyong-hi Kashipsho, Korea
Why They Lost:
A full season in Europe, a flight across the whole of Asia to train, a flight across the whole Pacific to warm up, a flight to Brazil to compete. Worn down, exhausted, the Taeguk Warriors barely stood a chance.
What We'll Miss:
I really do like the nickname Taeguk (Peace) Warriors...if you'd like a new nickname Dan Snyder, I'd suggest that.
26: Cheerio, England
Why they Lost:
As cohesive and organized as England can seem, they lack the star power of a truly superlative scorer. Wayne Rooney's strong, but would be less imposing if he didn't have Nike behind him. Daniel Sturridge might be getting there but there's a ways to go. Unless you can find a way to make a Louis Suarezington, or Marvin Balotellingham III, they'll always looked outgunned.
What We'll Miss:
The Sun's Apopleptic Headlines. Eternally entertaining.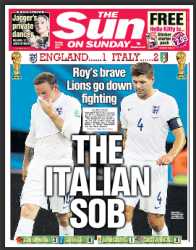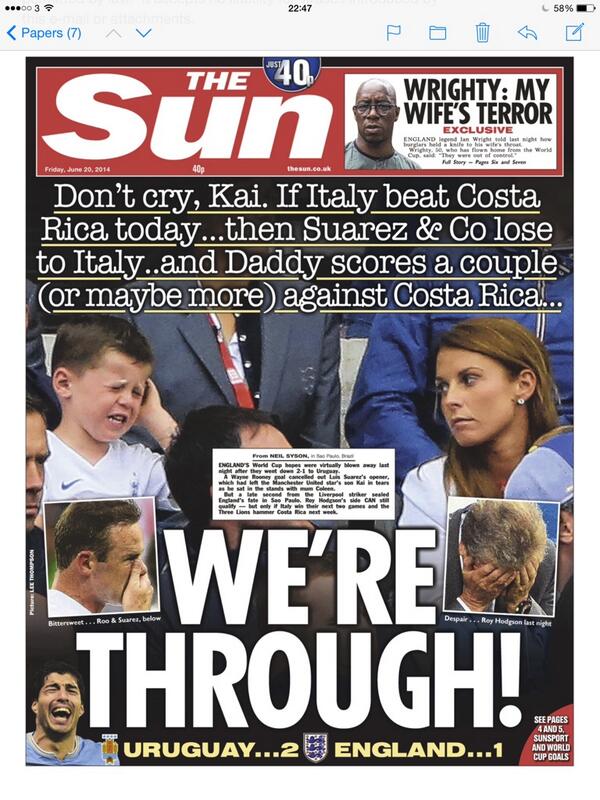 25: Nante Yie, Ghana
Why They Lost:
Players went on strike against playing due to lack of pay on Tuesday, then Kevin Prince Boateng and Sulley Muntari got in an altercation with a national team official leading to their expulsion and weakening their squad en route to a loss in the critical final match.
What We'll Miss:
The Black Stars have always been a favorite of mine. I was torn when they lost to the US and worried when they came close to upending Portugal and stealing second place. I'll still root for Boateng and Muntari, and still root for the Black Stars, especially as more veteran players set up for another run in 4 years.
24: Do Svidanja, Russia
Why The Lost:
I might be the world's leading Fabio Capello basher, but seriously, I have yet to see any of the skill that people drool over.
What We'll Miss:
Making fun of both Fabio Capello and Vladmir Putin.
23: Adios, Spain
Why They Lost:
Vicente Del Bosque knows what works, unfortunately he does not know what ELSE can work. The buddies, the pals, the squad that worked so well for the last three championships is still in place, whether or not it should be is another matter. Certainly, the piss poor showing against Holland and Chile suggests not.
What We'll Miss:
Hour after hour of ESPN drooling over a Spanish dynasty and the "genius" of tiki-taka futbol
22: Arrivederci, Italy
Why They Lost:
Hubris, thy name is Azzuri. After a sparkling win against England, it looked to be clear sailing against Costa Rica into the second round, instead they were inert and disinterested, doing nothing much of import. The final defeat to Uruguay was another unimpressive result waiting for divine intervention from the referee, only to be left wanting.
What We'll Miss:
A couple of drops of blood from Giorgio Chiellini's shoulder.
21: Katora, Cote D'Ivoire
Why They Lost:
One last foul. One last foul in the box that lost the draw, lost the point needed to move on and led to Greece (who had played worse than most of the other teams in this list) moving into the next round. They were a minute away...it's a shame, a real shame.
What We'll Miss:
The classics: Kalou, the Toures and Drogba, and the newbies: Gervinhio and Wilfried Bony, pretty much all the talent out there
20: Vidimo Se, Bosnia/Herzegovina
Why they Lost:
Like Andriy Schevchenko before him, Edin Dzeko is a tremendous scorer who can't do everything. He missed some golden opportunities, but his rivals came no where close to even creating them.
What We'll Miss:
Edin Dzeko clearly should be a marked man around the world, it will be a pity to miss out on him doing the same in later rounds.
19: Zbogom, Croatia
Why They Lost:
Dejan Lovren's late "penalty" against Brazil seemed to be a stunner, from which Croatia could never quite recover. They were playing from behind the whole time and never got their feat under them.
What We'll Miss:
We've never loved Croatia, but we were okay with their jersey...it takes real men to wear picnic table cloths.
18: Ate Logo, Portugal
Why They Lost:
Say what you will about Lionel Messi needing to show up at this tournament, Cristiano Ronaldo was almost nowhere and is rarely anywhere in the World Cups. A great cross to tie the US came after a lackluster 94 minutes, and a final goal to beat Ghana looked more lucky than good. Rely on him too much and you struggle through.
Coming soon to a league near you
What We'll Miss:
Women coming to matches--without Ronaldo there's a little less to look at.
17: Ricunacungacama, Ecuador
Why They Lost:
Ecuador played tremendously, looking great against Honduras, playing pretty well against France and looking for all the world like they had Switzerland beat. If they hadn't ceded that final second desperation goal, they'd likely have made CONMEBOL, 6 for 6.
What We'll Miss:
Enner Valencia is pretty badass, but we're betting we won't have to wait four years to see him on tv again...your move Europe.