The clock is ticking away on 2013, meaning that it will soon be time to (1) stop talking about the World Cup in terms of "next year" and start talking about it in terms of "this summer", and (2) begin panicking about all the transfer moves to be made over the next month.
So we'll spend this month's Starting XI looking at likely folks to move, and next month we'll revisit our Starting XI "New Faces in New Places" post, to evaluate how well some of Brazil 2014's future stars have been doing.
I. Marco Reus (AM-Borussia Dortmund/Germany)
Joachim Loew's new favorite has been beloved by both local fans and national ones since his sterling performance in the 2012 Euros. A floundering Manchester United is rumored to be interested, and if Dortmund can't get their act together it might be in their interest to sell now rather than risk Reus walking away later.
II. Iker Casillas (GK-Real Madrid/Spain)
It's shocking to see Casillas' name on this list, but he has fallen so far from favor with Real's bosses (0 La Liga starts this season) that he may well need to move just to shake the rust loose before La Furia Roja's title defense starts this summer. (Note, everything I just wrote about Casillas can also be applied to Julio Cesar except, of course for the fact that Cesar doesn't play for the Galacticos, he plays for flippin' QPR! Why the hell?!?!? Okay, deep breath...moving on.)
III. Edin Dzeko (F-Manchester City/Bosnia & Herzegovina)
I saw Dzeko play against the US in a friendly last summer and came away thoroughly impressed with his pace and tenacity up top. Of course when you can buy more players than God that means relatively little, so Dzeko has gotten little to nothing in the premiership. The more he can play the better for his career, and the better for Bosnia's chances in a wide open Group F.
IV. Ivan Rakitic (MF-Sevilla/Croatia)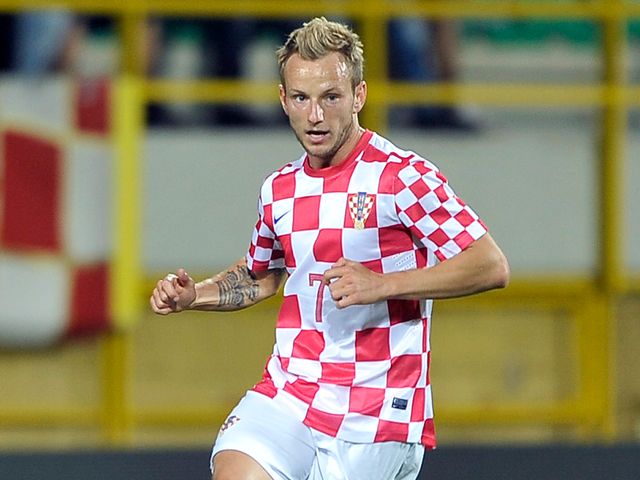 The stalwart of the Croatian midfield is another coveted target, despite a 40 million Euro buy out tag. With Croatia likely to tussle for runner-up against Cameroon, and Mexico in Group A this coming June, his form is critical to see. Whether playing alongside stars in Liverpool or Manchester helps him to spur his teammates to new heights or leaves him alienated wondering why all games can't be that easy...we will have to see.
V. Juan Mata (AM-Chelsea/Spain)
The superlative Spaniard has seen his time cut at Stamford Bridge, and could clearly benefit from some more time on the pitch if he wants to remain a key part of the Spanish starting XI. Juventus, Atletico Madrid and Paris Saint-Germain are among the big dogs sniffing around.
VI. Yohan Cabaye (MF-Newcatle United/France)
The English and the French have a tetchy relationship, but Cabaye looks to be going the way of Theirry Henry, straight into the hearts of every tried and true Englishman. Beloved in Newcastle, Cabaye is even more coveted by the likes of Liverpool, Arsenal and Paris Saint-Germain. Having delivered the Magpies first win in Old Trafford in 41 years, it might be best to bid "adieu" now before the relationship sours like so much Bouche de Noel.
VII. Jeremy Menez (MF-Paris Saint-Germain/France)
The love is less apparent for Jeremy Menez in Paris. Laurent Blanc is leaving him off the pitch, and soon national coach Didier DeChamps might do the same thing. If Menez can get back into form with Juventus, AC Milan or top of the table Liverpool, it would be a boost for him. (But whether or not any of those teams have more room is debatable).
VIII. David Luiz (D-Chelsea/Brazil)
Turning our attention away from Europe for a little bit, the core defender for Flipe Scolari's crew is set to be one of the most pivotal (if underpublicized) players at next summer's cup. Goals win matches, but defense keeps matches winnable. The 26 year-old Luiz is, by all accounts, being regarded by Barcelona the way that a sketchy dude-bro regards a sorority girl with a glass of "Hypnotiq" on New Year's Eve.
IX. Jackson Martinez (F-Porto/Columbia)
In the battle to become option #2 behind Radamel Falcao, Martinez may need a little more of a challenge to convince boss Jose Peckerman to trust him. He has been dominating the Portuguese domestic league for sometime, leading many to wonder how the skills would translate to a tougher league (and whether or not he'd get the chance to show them at already stacked Arsenal and Liverpool)
X. Lacinia Traore (F-Anzhi Makhachkala/Ivory Coast)
There should be a special category for African players who are trying to get out of Eastern European teams. Even if Traore is buried at the bottom of the Elephants depth chart up top (Drogba/Kalou/Geviniho/Bony all best him), Traore is on the upswing at just 25. He'd be similarly squashed at Man United, but Monaco could have some strong opportunities for him to grow and earn his spot as the next generation for the African powerhouse.
XI. Kevin De Bruyne (MF-Chelsea/Belgium)
If Belgium is the darkhorse of the cup, then Kevin de Brune is the dark horse of the darkhorses. Less renowned than many of his fellow Golden Generation members, he's no less valuable to coach Marc Wilmots, even if Jose Mourinho has only called his name twice as a starter this season. His suitors are lining up, with Bundesliga stalwarts Bayer Leverkusen, Schalke, and Borussia Dortmund right beside the surprising Atletico Madrid.
At this stage it's all still conjecture as to whether or not any of these players actually move. But by gum, it's fun to blather randomly isn't it!?!