Back in September at the start of league play, I noted some of the most notable national team players who would try to parlay a strong league showing into a spot on their local World Cup squad. Halfway through the year, it seemed like a good idea to review performances and revise the list based on changes to whose in, whose out, and who just got moved.
I. Marteen Stekelenburg (GK--Netherlands/Fulham)
Holland qualified with ease, but Stekelenburg has been underwhelming to say the least for Fulham, which languishes at the very bottom of the table. Having ceded at least one goal in every single January match (37% of all shots faced), Stekelenburg is left splitting time with the slightly less renowned David Stockdale (conceding 35% of all shots faced). His spot with the national team seems sure, whether he's taking it easy during league play or due for a disaster is hard to say.
With Venezuela coming up short, we can turn our attention to the latest quasi-darkhorse darling of the World Cup: Colombia. Armero has been bouncing about in Italy and hasn't made many appearances lately for Los Cafeteros, but he pops up on our list because...well..it's hard to find great defenders swapping sides at this time of the year. Add to that some sterling performances in the Champions league (including a particularly fine shut out of Arsenal) and he may be a valuable asset off the bench in Brazil.



III. Dejan Lovren (D--Croatia/Southampton)

Lovren and Croatia have found a bit more attention after their initial lack of attention. One of the stalwarts of the Southampton defense has boosted the Saints to the top half of the league and a top 5 defense in the Premiership (with a Man of the Match honor at Anfield for his trouble). Meanwhile, the Croats are destined to have a serious spotlight on them as they kickoff the whole affair against Brazil. But the dark cloud amongst all the silver linings is the ankle ligament damage that will put Lovren on the pine for two months, and seriously set back his prep for the Cup.


IV. Joseph Yobo (D--Norwich/Nigeria)
[Replacing Razvan Rat (D--Romania/West Ham United)]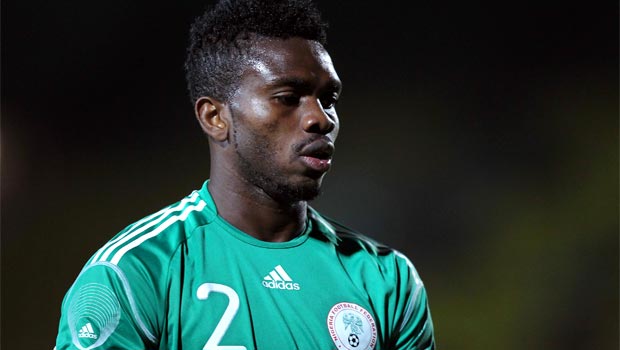 Razvan Rat left West Ham (creating space for the aforementioned Armero, and on our roster it leaves room for the grand old man of Nigerian football: Joseph Yobo. With 95 caps, Yobo is the most capped Super Eagle of all time, and as the African side prepares to take on a pretty wide-open group (Argentina's likely but the battle between Bosnia/Iran/Nigeria could go almost any direction you please), his veteran leadership would be a plus. With only two caps to his name this season, more playing time will be vital to even book him a seat on the flight over.

V. Paulinhio (MF--Brazil/Tottenham)
As Paulinhio goes so go Spurs it seems. Playing most of his futbol in center defense, it's only natural that he's critical to the team's success or lack thereof. When he's rated 6.4 or better in the match rating scale: Tottenham has never lost. But when things go wrong (as in lopsided defeats against Manchester City and Liverpool)--he's in lousy form. Still, his power's been worth it for any self-respecting Spurs fan, and Brazil is in the same boat.
VI. Jesus Navas (MF--Spain/Manchester City)
On the right side of the pitch, Jesus Navas has been a bit less consistent than the defensively minded Paulinho. Though his highs are loftier (an utterly brilliant game while crushing Tottenham--and Paulinho), they are less consistent. Since a November burst of brilliance Navas has been more than adequate, but hardly the remarkable/transformational player some would hope for. A spot on the bench likely beckons--but since it's Spain, it's the rare person who wouldn't be bound for the pine.
VII. Emanuele Giaccherini (MF--Italy/Sunderland)
With their heads just slightly above water near the lower third of the league tables, the Black Cats are greatful for Giaccherini's good showings. He makes appearances all over the field, bouncing from the left side to the right, but never seeming fully comfortable in any of the spots. His form over the last two months has been terribly mundane to quasi-questionable, though it hasn't seemed to hinder Sunderland (who have lost just once in their last 9 matches). It's anybody's guess whether Giaccherini has done enough to merit more than a wary eye when Italy heads to Brazil next summer.
VIII. Jonas Guttierez (MF--Argentina/Norwich)
[Replacing Aleksander Tonev (MF--Bulgaria/Aston Villa)]
Playing alongside the veteran comeback kid Joseph Yobo in Norwich is the Argentinian comeback kid Jonas Guttierez. Although a little younger, Guttierez arguably has a bigger road to climb back from. Underused in Newcastle and blocked by seemingly half the country in the midfield for Argentina, it will take an impressive run of form for him to break back into the conversation. On the other hand, holy cow is that man huge...his chest is as wide as my refigerator and filled with much more ham. I don't want to tell him what he can't do, do you?
IX. Wilfried Bony (F--Ivory Coast/Swansea)
The Welsh team with huge dreams and (seemingly) a transfer happy management style to match, should be very pleased with Wilfried, who tends to make the most of his time on the biggest stages. Notching top goals all over Manchester he's been integral to keeping the Swans alive in the FA Cup. It's a little unfortunate that his best efforts have been wasted in losing matches, but there's every reason to hope that he'll be a vital part in keeping Swansea alive and urging Ivory Coast over the group stage hump come Jne.
X. Kostas Mitroglou (F-Greece/Fulham)
[Replacing Stefan Jovetic (F--Montenegro/Manchester City)]
While most of the players added to our little starting 11 here are of the "comeback" or "washed-up" or "who the hell knows" variety. Kostas Mitroglou is a sure thing. The dynamic Greek forward was a boss at Olympiakos. He was a boss in getting Hellas into the cup. And now he's off to Craven Cottage to slice up defenses alongside fellow transfer add Clint Dempsey. Given that the Greeks are best known for their defense (and crippling national debt debacle), his emergence as a strong attacking option is one of the biggest story lines to watch for one of the European darkhorses. That said, the Premiership is a slightly loftier challenge than the Greek first division...so here's hoping Kostas is up to the challenge.

XI. Andre Schurrle (F--Germany/Chelsea)
We wrote back in September that Schurrle is realistically shooting for a spot off the German bench. So it's somewhat appropriate that he's maintaining a spot off the Chelsea bench this season. He's made the most of a few big chances (including a great game against Stoke...which Chelsea lost) but has had to adjust to being moved back into Midfield. A little bit of flexibility never hurt Germany before (particularly in soccer and race relations), but there's still a bit to be proved before he's Die Mannschafft's favorite son again.