Just because the World Cup is approximately 9 Million Years Away (
Ed: Just 3 years and 9 months Captain Hyperbole
), doesn't mean that international soccer is irrelevant. Sure, fans of the big names and star-power will tune in to league matches at a much higher rate than those die-hards in remote villages who tune in to fuzzy pictures on a rare satellite dish.
But as this is a "World Cup" Hooligan's website we'll keep you abreast of all the big competitions, and even some of the small ones. Starting with the recently concluded Copa Centramericano (Central American Cup) held in early September in the US (or rather: DC, Dallas, Houston and LA).
What are our big takeaways, well, that's what 3 On/3 Off is for.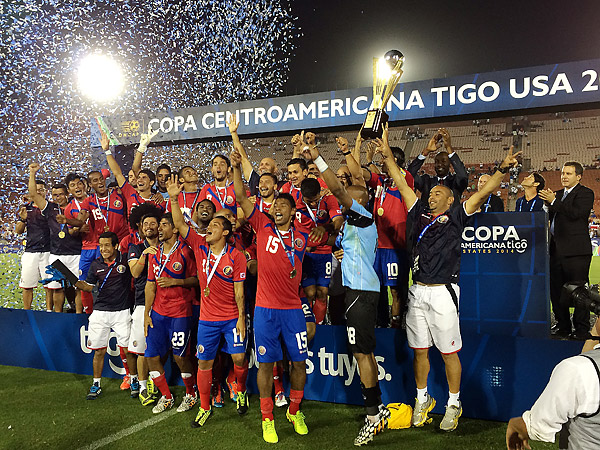 Pretty good way to wrap up the summer
ON: Costa Rica's Domination
It's Los Ticos world in North America right now and the rest of us are just playing with it. The tournament might have been a mere formality after the quarter finalists took on a set of squads with an average rank of 117 in the world. Bryan Ruiz and Celso Borges never stopped, and Costa Rica can now gladly add $60,000 to their budgets thanks to their triumph (
AND
punch their ticket for the 100th anniversary of the Copa America in 2016...starring all of South America and the top 6 squads in North America).
OFF: Costa Rica's DOMINATION
Champions though they are, Costa Rica didn't exactly mow down the competition like Sonny Corleone at a tollway booth. It took 2 goals in the final ten minutes to scrape a draw against a very game Panama, and another comeback after ceding a penalty to Carlos Ruiz of Guatemala to gain the trophy. Los Ticos are good, no doubt about it...but maybe not
that
good (at least, not without Keylor Navas)
Who's your Pappa?
ON: Marco Pappa (Guatemala)
Case in point for Costa Rica's tempered optimism is Marco Pappa, who netted a pair of braces against Honduras and El Salvador (he didn't even pick on lowly Belize) en route to winning the golden ball and the golden boot for the tournament. That hardware will be fun to flaunt at Sounders teammates Clint Dempsey and DeAndre Yedlin.
OFF: Honduras
Honduras takes home the fuzziest lollipop from the cup. Finishing fifth means they weren't the worst squad out there, but they certainly didn't look like the World Cup entrant from earlier this year (even when that World Cup Entrant was lackluster). Their only goals and points of the group stage came off of own goals by Belize (more on them in a minute) and the team didn't actually score until first half stoppage time against Nicaragua. So, yes, technically they are the fifth best team. Just like "technically" Honduras is still a country and not a Narco-Traffickers Jamberoo
ON: Panama Keeper Jaime Penedo
It won't come as a galloping shock to any Panamanians, but Jaime Penedo is pretty darn good. After a century of caps for Los Canaleros, he has now three sets of Golden Gloves to show off, and the set from the Copa Centramericano is decidedly the shabbiest of the lot (the other two come from Gold Cups). Aside from an ugly final 10 minutes against Costa Rica, Penedo was an absolute fortress for Panama en route to third place and a special spot in the Centennial Copa America.
Deon can't do it all himself boys
OFF: Belize Defense
I'm fond of Belize, I really am. The beautiful beaches, the wonderful weather, the English speaking, it's all great...even if I've never been. I'd love to see Belize do well in their competitions, if only so I could somehow, someway claim to a Belizean soccer expert and get myself a trip to Belize. But sadly, it's not going to happen if the Copa Centramericano sets the tone. Belize's defenders scored two own goals against Honduras that more or less sealed their fate before half-time. Deon McCauley did score
for
Belize (rather than against them)...but that's not a great statistic. 3 Times Belize hit the net...and twice it was their own...oof.