16: Adios, Uruguay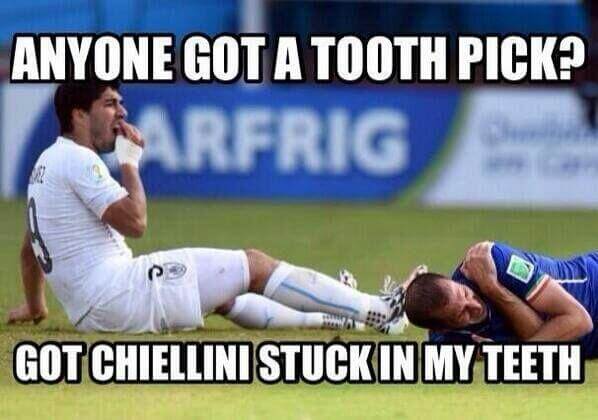 Why They Lost:
Generally speaking when your only real goal scorer is banned from competition for biting guys you're doomed.
What We'll Miss:
Hating Uruguay (
lousy cheating so and so's...
)
15: O dabo, Nigeria
Why They Lost:
Their low expectations were critical to helping Nigeria squeak through Group F, but they didn't have much offense if any to help them create, only Ahmed Musa looked willing to make things happen for the Super Eagles
What We'll Miss:
Both Vincent Enyema's spectacular keeping and the fact that this team looked ready to distract people from the creeping cruelty of Boko Haram.
14: A Revair, Switzerland
Why They Lost:
It was gouda of them to come and play, but I never really bris-lieved they would be a serious camembert...Seriously though, Switzerland was sloppy throughout the group stage, and only seemed to qualify due to Ecuador's rotten luck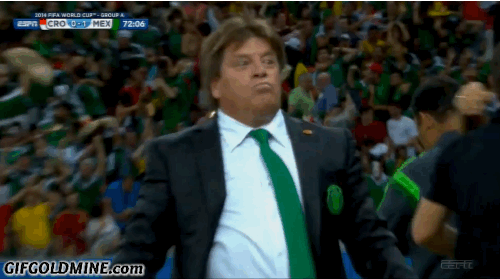 What We'll Miss:
Cheese jokes...my god the Cheese jokes.
13: Hasta La Vista, Mexico
Why They Lost:
Pick your scape goat--Arjen Robben's floppery? The Ref's believing him? Or maybe Rafa Marquez for being chippy enough to be a dubious victim in anyway.
What We'll Miss:
Miguel Herrera, please come be an AYSO coach, so you can bring your unique brand of freak-outs to us all.
12: Gim di Lehna, Algeria
Did someone say Islam Slimani?
Why They Lost:
As infuriating as their defense was, Les Fennecs had a devil of a time breaking down defenses (other than Islam Slimani) someone, any kind of distributor would be valuable there.
What We'll Miss:
The Fennec itself is pretty darn adorable when you get down to it, and add to that the fact that Algeria will be donating its
FIFA prize money
to the displaced people of Palestine and you have a pretty lovable crew
11: Totes Later, USA
Why They Lost:
There's lots of things to pick out--lack of athleticism, Michael Bradley's maddeningly inconsistent play, overly defensive strategy, Jozy Altidore's injury...but I'm going to pin the blame on our inability to retain possession. You can win if you sit back and wait out an early lead, but you can also win if you never give up the ball.
It's more fun to think about Tim Howard
than any of these other teams...
What We'll Miss:
The chance to yell "TIMMY!" at inappropriate intervals.
10: Xaire, Greece
Why They Lost:
Kaylor Navas shut them down in the penalty shoot out...after a tonnage of cards from the Australian referee gave them a better chance to win than they really deserved.
What We'll Miss:
The butchery of Greek names and comments about how old their defense is.
9: Chao, Chile
Why They Lost:
Since I've grown totally irrationally fond of him, I'll say it's because they pulled Gary Medel and didn't let him have a shot against Julio Caesar in the penalty shoot out
What We'll Miss:
Being on El Rojo's bandwagon before it was cool to be on their bandwagon.