When you have a job it's easy to lose track of the fun things in life: like minor international soccer tournaments.
So, as we near the end of the actual Asian Cup we take a look backwards at the smaller, less prestigious, but far more fun Southeast Asian Cup, also known as the ASEAN Football Federation Cup, or the AFF Cup, or the Suzuki AFF Cup, because why not.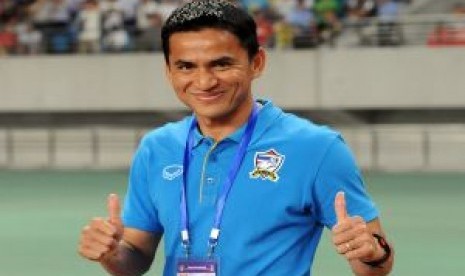 Everything's Coming Up Kiatsuk!!
ON: Kiatsuk Senamuang (Coach of Thailand)
The former War Elephants striker returned to the team as a youth level coach and after a great run of form (including gold medals in two youth tournaments) repeated the feat when his youth players graduated to the national team. He's the first person to win the Suzuki Cup as both a player and manager. So basically, he's golden until Thailand fails to qualify for the World Cup.
OFF: Clarity of fan/political allegiance in Thailand
As the proud owner of a Bangkok knockoff Thai National Team jersey, I have to say that I was swiftly pressured into identifying the color that noticed my political allegiance. Yellow for the monarchy, red for the reformers or blue for...well...farang tourists who didn't want to piss anyone off. But with their most recent trophy won in red and dedicated to the ailing king, it's hard to tell what anybody's rooting for in the Thai stands (other than victory/peace).
ON: Mohd Safiq Rahim
Gratuitous Malaysian Bowling plug
While Malaysia was unlucky again to be waylaid in their pursuit of futbol greatness. The country has a strong hunger for glory, but little to show for it. Their 2010 Suzuki Cup win was their first trophy in 21 years, and they've got just 5 points in the last 3 World Cup qualifying campaigns. But that's nothing to do with Safiq Rahim, who remains absolutley deadly from the penalty spot netting four of his Golden Boot winning 6 goals. And if that weren't enough, he's married to one of Malaysia's best known female bowlers Zandra Aziela. (Take that Nomar Garciaparra and Mia Hamm!)
OFF: Baby Face Laotian Keepers
Living in a part of the world with a large Laotian diaspora, I keep hoping that Thim Xad will pick it up. But that's hard to do when they field a pair of goalies with 5 caps to their names. Perhaps Thailand built for their future by trying so many young talents out, but manager Dave Booth (of Grimsby Town fame) may actually have set back the process of
Seng Athit Somvang
(23) and
Soukthavy Soundala
(19) after that duo yielded 12 goals in 3 matches. God speed to the newbies.
ON: The Street Rep of South Asian Fans
You name the hooligan-ish behavior and South Asian fans seemed to go in for it. Throw toilet paper at the ref: Check (thanks Singapore). Point lasers into opponents eyes: check (thanks Malaysia). Deliver death threats to opponents: check (thank you Thailand). And just beat mercilessly beating people up: check (thanks again Malaysia...though Malaysian press says thanks go to Vietnam...let's just agree you both acted poorly.)
OFF: The Socceroos
Technically Australia is part of the Southeast Asian Cup, but technically, Australia is much much better than everyone else in the sub-region. So! The Socceroos have chosen to participate only in the East Asian cup, with greater prestige, more money and greater challenge. But we know the truth, they just don't want to face the potential upset of so many consonants being dropped on confused readers of Aussie Newspapers