Just when you think you've done the unthinkable and escaped the endless talking points and countdown clocks around the American Presidential Primaries, I'm here to batter you with news of another election!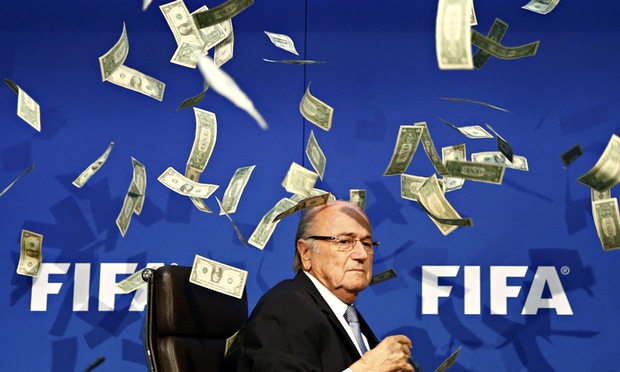 Don't worry, this one isn't about who gets access to nuclear launch codes, or the power to appoint a generation of jurists. It's actually about important things: World Football. Specifically the election of a new FIFA president (unless Sepp Blatter seizes power through some kind of bureaucratic coup, rising up with umpteen forms in triplicate and pockets stuffed with Swiss Francs).
Unfortunately, we have absolutely no way to influence the vote. No fan does. No FA has polled their populace. No debate was held (though one was hilariously/feebly scheduled). No candidate is glad handing or meeting regularly with the press, players or supporters who make the beautiful game so beautiful.
So perhaps it's fair to ask "why should we care about which over-indulged bureaucrat gets to over-indulge until they die or an Attorney General arrests them?" It's a fair question, but here's the fair answer: even the court jester had to know who was king.
Much as we mock the misanthropes in Zurich, we are beholden to them for the national games, for the global pride, for the international joy of watching and wallowing in athletic artistry. We're stuck with them, and even if they don't care about us, what they choose to do will effect the games we see across America in the future.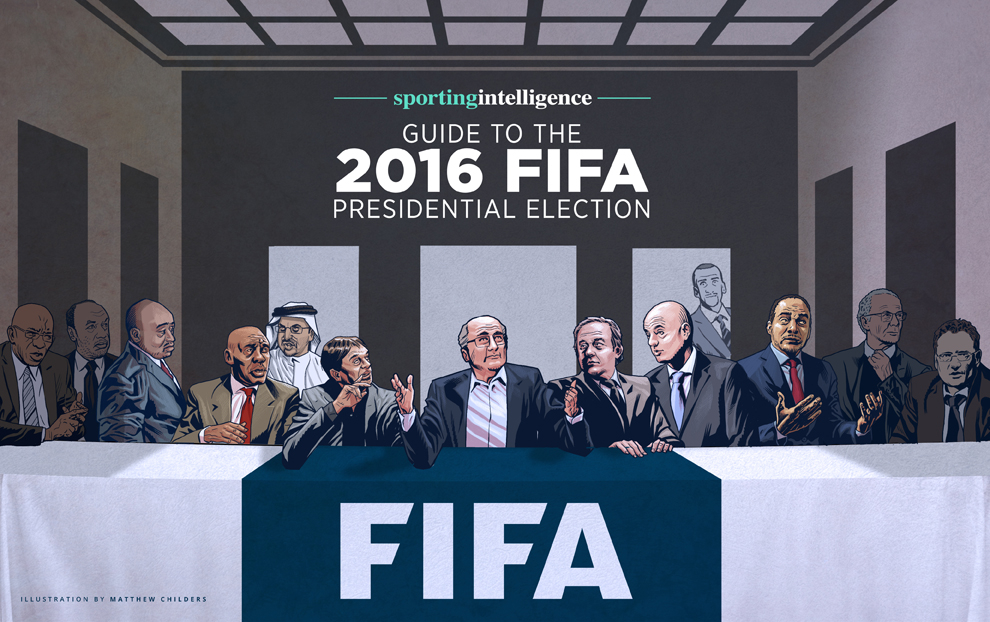 Candidates in the light from Left to Right:
Sexwale, Salman, Champagne, (Blatter & Platini), Infantino, Ali
Using,
The Sporting Intelligence
's insightful and brutally direct break down, I highlighted a few key parts of each candidates platform. Almost every candidate has known enough to make approving noises about big transparency issues, and pledges for reform, but so did Uncle Sepp, and while those things matter, we may not see the truth of such "reforms" for another 20 years or so. For the here and now, local fans will most notice if the next president works to:
improve minor associations (which would expand the talent pool for US Club teams and support greater parity on the world stage);
expand the World Cup (from 32-40 as per Michael Platini's proposal);
invest in grassroots and women's football; tackling social ills (i.e. doping, racism, child trafficking from the third world under the guise of "club scouts");
include geo-political requirements on World Cup hosts (which would ideally save fans from the queasy feelings instilled by bully candidates like Russia and Qatar);
and increase technology in the game (the one thing everyone has claimed they will do).
So where do they stand and who would win a local-fan primary? Let's look at the candidates, their life stories, their effect on local fans, their chances, and who their best presidential campaign corollary is (apologies to ardent Republicans who would rather not see their favorite candidates connected to the mess of FIFA. I'm not implying any judgement, it was just easier to draw from a big pool)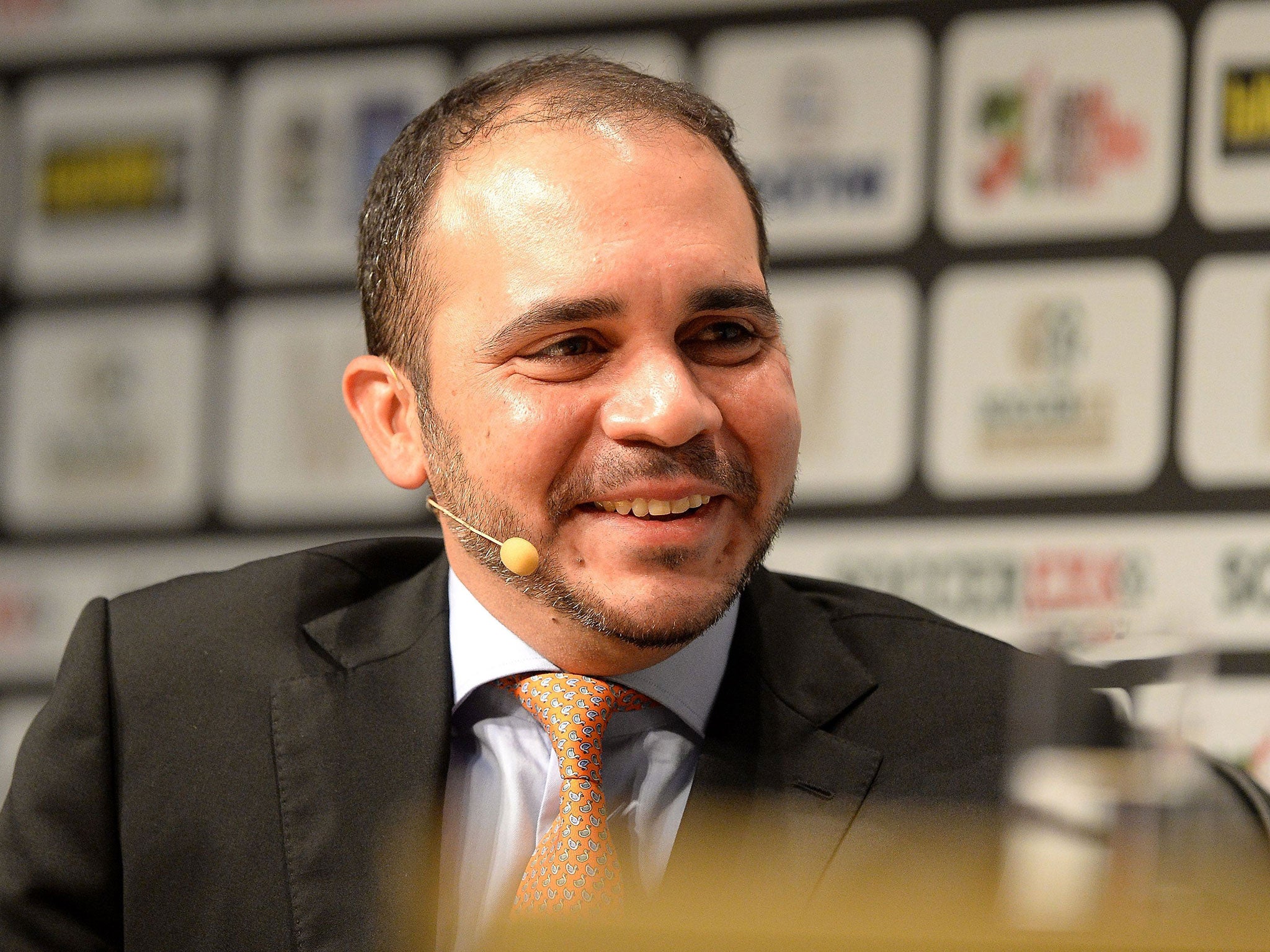 Who He Is:
A member of the Jordanian royal family and runner-up to Sepp Blatter in the last election (in May of 2015). Prior to that he founded a regional organization for football in the Middle East, was a FIFA VP for Asia and a staunch advocate for allowing the hijab in Women's football. He's also kind of the rock and roll candidate, turning up to Arsenal games, showing up for just about every public event, showing his family man status, etc.
Who He Is Not: A humble street urchin posing as Prince Ali Ababwa...that would be ridiculous!
How He Would Effect Mid-American Fans: Hussein is in favor of continuing many of the growth oriented practices of FIFA's recent past (more technology, cracking down on racism, supporting small member associations, growing grassroots/women's game). But he differs in two key details: he would alter requirements for World Cup Hosts (incorporating human rights issues--after 2022--and looking for ways to decrease cost burdens on hosts), and he's mostly focused on giving money to smaller countries rather than growing membership or reforming local FAs.
What are His Chances? Fading fast. Ali was the only other option 9 months ago, and had the backing of the Europeans furious with Blatter. But with two European candidates this time around, his support base has dried up faster than an Agrabah oasis.
Which US Candidate does He Resemble? Mike Huckabee/Chris Christie. Cool enough to be intriguing, but not to actually win anymore.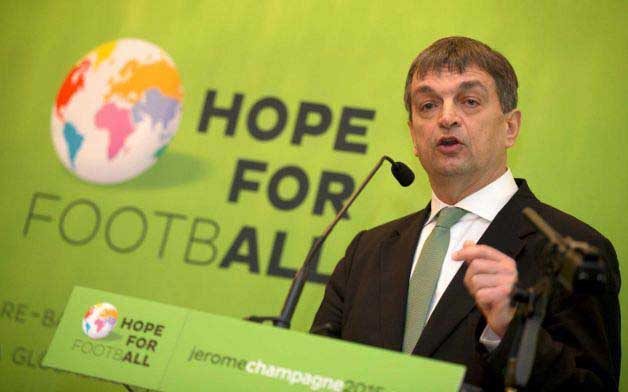 The Man Out of Time: Jerome Champagne
Who He Is: A French diplomat who segued into football management during the 1998 World Cup. After 11 years near the center of the football decision makers, Champagne took to bopping around the globe consulting smaller federations on ground level improvements (most notably in Palestine). He didn't get the nominations needed to run in 2015, but is back again and still bucking for the presidency.
How He Would Effect Mid-American Fans: Like Prince Ali, Champagne is one of the most vocal reform candidates. But he would take a more active role in addressing the minor associations (as a consultant for minnows, that makes sense): building pitches, pushing an on-line management training class, adding a voice for players in FIFA, getting boots on the ground in burgeoning markets (China/India/Indonesia) and explicitly campaigning to add Kosovo and more Oceanic nations.
What are His Chances? Not good. As relevant, viable, and progress-driven as he may seem in the eyes of fans and the press, he's not terribly relevant to the powers that be in FIFA-land, being dismissed by some as "the minutes taker".
Which US Candidate does He Resemble? John Kasich. Obviously capable, but oblivious to the tides of voters and the times.
Infantino (w/ball) and his homies
Who He Is: A Swiss sports management official, given the defacto backing of European confederations when Michael Platini was banned in the fall. He's been around the ever increasing popularity of European football, and enjoys the support of lots of players also connected to UEFA management.
How He Would Effect Mid-American Fans: Unclear. Infantino is long on popularity and short on specific suggestions for improvement. Of the five topics I identified as relevant, he hasn't take a definitive stand on any of them (not even curbing racism, which...COME ON MAN!). He has said in the past that he backs World Cup expansion, and he wants to start his presidency with a football game at FIFA with some favorite old stars, which would be fun.
What are His Chances? Great! Most of Europe and South America have pledged their support, and with a platform that's long on vagaries and short on specifics, the old hands in Zurich will feel quite comfortable with him.
Which US Candidate does He Resemble? A hybrid of Jeb Bush's establishment credentials and Donald Trump's blanket pronouncements/celebrity pals.
Who He Is:
A member of the Bahraini royal family, Salman Bin Ibrahim al-Khalifa, has a degree in English literature, but rather than racking up debt (or just wasting royal family money) on a graduate degree, he got involved in football, first as president of the Bahrain FA (just as the team's golden generation finished painfully short of the World Cup in 2006 and 2010), and now as President of the Asian Federation. He also has been l
inked to the imprisonment and torture
of Bahraini athletes who took part in pro-democracy protests during the Arab spring.
How He Would Effect Mid-American Fans: The Sheikh wants more money to small federations (his own has gotten the most over the last decade), and he has made appropriate mutterings about the social issues everyone cares about...or says they care about anyway. Racism = Bad. Mission accomplished. Hope you're happy everybody. But generally he wants to be hands off and let the game be the game. So if you're cool with how the most powerful clubs and countries have been doing things lately, get comfy.
What are His Chances? Pretty strong. Many FIFA watchers have suggested a potential backdoor deal between Infantino and Sheikh Salman where the president isn't white, and nothing really changes either.
Which US Candidate does He Resemble? Ted Cruz. All the promise that makes his supporters happy, all the baggage that makes others wince.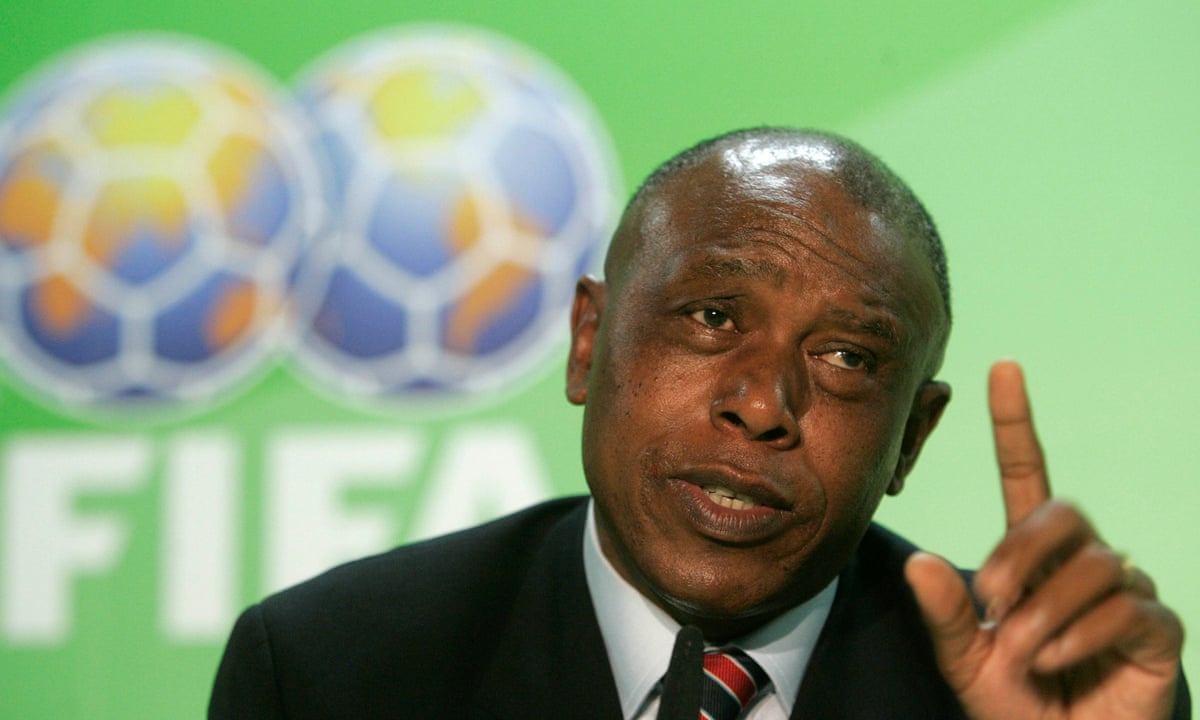 The Zombie Campaign: Tokyo Sexwale
Who He Is: A former dissident and prisoner in Robben Island alongside Nelson Mandela. But rather than becoming a beacon for hope and democracy around the world, he followed up a brief political career by making gobs of money in mining, starting the "Say No to Racism" campaign, and becoming Franz Beckenbauer's BFF.
How He Would Effect Mid-American Fans: Sexwale is in favor of EVERYTHING! More associations! More grassroots promotions of pitches in the developing world! More money to the poor! More teams in the World Cup! More Women (presumably playing football)! More doping!...Wait...I mean, more stopping of doping! All he doesn't explicitly want is vetting of World Cup hosts, so get ready for Venezuela 2026!
What are His Chances? Bizarrely worse than the other "reformers". As a new face, a rich backstory, and a person from the underrepresented constituencies in FIFA, many tipped Sexwale (Seck-wall-ee, not Sex-whale) as a putative early favorite. But after making a big bang on his entrance, he's fizzled. His website is down, his twitter is dormant, his campaigning looks meek next to Ali and Champagne, and he has no confirmed voters (heck, even the mild mannered Champagne has Guinea-Bissau).
Which US Candidate does He Resemble? Ben Carson, but without the narcolepsy.
So, it's pretty clear that, barring some bizarre turn of events, it will be either Sheikh Salman or Gianni Infantino. But in a more democratic world, where the whole world actually had a voice, who would get your vote?