We spent the last few days reflecting on the teams that have bowed out of the next round of the world Cup in 2015. Now it's time to look ahead to the 2016 International Soccer Calendar and ponder what, if anything, matters to the average Upper-Midwest-Mountain-Time-Zone-Type Soccer Fan.
January 3rd: SAFF Championship--India
Forget your podunk Tax Slayer and Alamo Bowls, the first real hardware on the line this year will be awarded when India and Afghanistan meet in Kerala this Sunday. The Afghans have long dominated the subcontinent but are about to defect to a different subregion, meaning that India will soon be the lone giant in their area (as usual). The Blue Tigers have already been mathematically eliminated from the world cup qualifiers with two games to go, but they play throwback American footy. As in: a throw back to those late 80 days when 90% stadium seats were empty and even the best players were tentative. Ahhh memories. (You can watch the
live stream here
at 7 AM local time Sunday, but be warned there are no announcers, but feel free to invent your own.)
January 11th: Ballon d'Or Awards
AKA Lionel Messi wracks his brain to think of someone he hasn't yet thanked in an acceptance speech.
Uhh...my great-great-great grandma I guess?
January 12th-30th: Asian Olympic Qualifying/U-23 Championship
It will be interesting to see who makes it to the Olympics (I'm still riding the Thai War Elephants bandwagon), but what really matters is our sense of progress and organization in Qatar who hosts the tournament. Sure it's still 6 years off, and they've hosted an Asian Cup with more spectators and journalists, but the closer we get to 2022 the more we want to see wrinkles ironed out.
February 7th: African Nations Championship
You might be thinking...didn't Africa just play a championship last year? Yes they did, but this time they take only players based on the continent into their national teams, giving a slightly trickier job to the coaches involved. Unfortunately the late timing means that if someone has a great tournament they have to wait five long (injury-prone) months before they can become a transfer target again. But, as an added bonus, you can brag at that evening's Super Bowl party that you won the Office ANC Pool. ("
What's that
?" you can continue "
your office doesn't have a pool for the African Nations Championship final? Well...I suppose we're just more worldly over where I work
"--and that's how you win Hipster of the Year with 10 months to spare)
February 26th: FIFA's Extraordinary Congress
Sadly, it's not a congress made up of FA directors who are also steam punk superheroes. It's a bunch of officials running to replace Sepp Blatter as most derided and loathed man in the world. There's a full month plus of campaigning, including the possibility of a live ESPN debate around the world on January 29th so we can get more into the who, what and why and if you want logical, intelligent coverage rather than my style of mockery and pop culture allusions,
Sporting Intelligence
has just about everything you need to know to make an informed decision about who you would least dislike winning an election you can't vote in.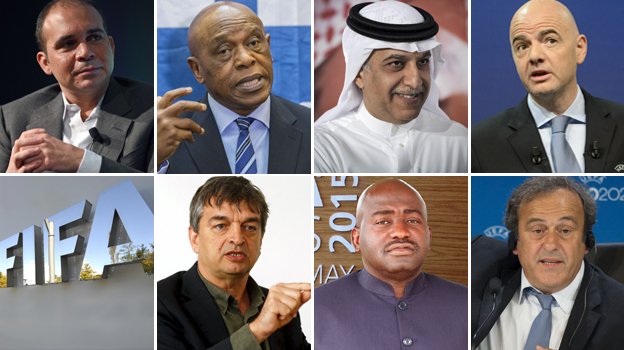 Be prepared to loathe one of these men for the rest of their professional lives!
March 15th & 16th: FIFA Meetings on Development and Cup Organization
AKA Shoot, people are watching us now...how do we "develop" our bank accounts like this?
March 21st-29th: International Break #1
The biggest piece in this session will be Asia's final round of second round matches, with a number of spots in the final round still up for grabs. The great stories of Bhutan and Guam have reached their disappointing endings, but there's still hope for Cinderella story runs for Thailand (coming of a trophy win last year), Hong Kong (who could qualify off the back of China) and Syria (who...holy hell what would their progression mean?).
May 12th-15th: FIFA Congress in Mexico City
The new president will have the eyes of the world on him as he announces a host of minor bureaucratic "reforms" that will either continue the devolution of power to an international base or set billionaire European club owners toes a-curling.
May 15-29th: COSAFA Cup--Windohek, Namibia
Bafana Bafana remains the dominant force in the region, but shockingly trail Zimbabwe and Zambia in total titles. With Zambia a dark horse for Wold Cup qualifying and Botswana and Angola riding a youth wave, there are some interesting story lines to watch before most teams settle in for three years of waiting for the 2022 qualifiers.
May 28-June 11: OFC Nations Cup/2nd Round Qualifiers
AKA New Zealand enjoys some lovely beach weather in Papua New Guinea and wonders how it can join the Asian Federation.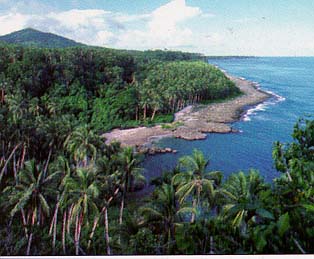 C'mon All Whites, look at this view
June 3-26: Copa America Centenario--USA
Ahh, the tournament that gave Attorney General Loretta Lynch the opening needed to whomp FIFA on the head with the reform stick (
thanks Traffic Sports Marketing!!
) For those who are still keen on seeing great international soccer (
assuming it rises above the stink of bribery that it was built on
) it's only 5 hours to Chicago which will host three first round games (including one US Men's National Team and one Argentine game) as well as a semi-final.
June 10-July 10: Euro 2016--France
The big tournament of the summer will offer answers to a few big questions: is Germany unbeatable? Can Spain and Italy bounce back? Are France and Belgium ready to join the short list of title contenders? Dare we dream of Irish, Welsh or Icelandic qualification? Who is destined to make Euro pundits giggle like star-struck teens before turning in a wildly disappointing next season and disappearing off the face of the sporting earth? Ohh, Euro season, how I tolerate you.
June 24: CAF 3rd Round Qualifying draw
While some strong teams still look indomitable (Ivory Coast, Algeria, Ghana) we've reached that stage of African development where often overlooked squads are on the rise (Cape Verde Islands and Congo), while older squads have faded just enough to create groups of deaths (Egypt and Nigeria). We'll have to wait and see how the groups shake out, but there's a good chance that three more spots will be in the balance.
Alright! More Cartoon Sports Enthusiasts
August 3-20: Olympic Tournament--Rio de Janeiro
Hey! A soccer tournament in Brazil! Move over pigeons of Manaus, we need that stadium again...for a couple of hours anyway. Seriously, the U-23 teams coming in from around the world should give a sense of which county's development programs may be bearing fruit in two years time (Denmark, Sweden, Honduras, South Africa, maybe just maybe the US--if they can beat Columbia in March).
August 29-September 6: International Break #2
Just a few weeks into the start of the new club season, and just six weeks after the Euro Championships, UEFA starts another round of Cup Qualifiers, and even San Marino dreams big (
We lost 5-0 it's a miracle!!
)
October 3-11: International Break #3
It's Africa's turn to start a round of qualifications based on the June draw for 5 groups. Assuming people aren't so pumped after watching the new Channing Tatum as
Gambit
movie to lose focus. They love their early-90s X-Men in Gabon!
Let's go, cher pantheres!
October 20-11: FIFA Meetings on Marketing and Television/Development
AKA "Dude, check out all the tv money we can...oh...dang it, they're still looking."
October/November: Central/East-Central African Cup (Possibly?)
Uganda has been on a great run of late, making the third round of World Cup qualifiers and winning their 14th regional cup. If (as Wikipedia seems to believe) there's another cup in the offing, the Cranes may be able to build themselves up more for a longer qualifying run (or run themselves ragged when they need to be fresh).
November 7-15: International Break #4
North American fans rejoice, it's time to start the Hexagon. Assuming the US can get past the Grenadines and Tobago, we will see more high stakes matches with local rivals Mexico and Costa Rica, whether or not we see that with Jurgen at the helm depends on your fondness for our resident Ubermensch.
Jurgen and his critics move to a slightly larger space
December: ASEAN Football Federation Cup--Myanmar/Phillipines
What a great way for Aung Sang Suu Kii to celebrate her first year in power! The Southeast Asian nations will run another tournament. With Thailand on track for their first final qualifying round and Vietnam still in the hunt, the AFF Cup might make a good tune up for those teams with big dreams, or salve the wound if it all falls apart. Plus, I hear the Nobel Prize winner's a pretty creative attacking midfielder.