In just a little more than a week, the last matches of AFC qualifying will begin and we will start slotting our first, official, not-host-nation entrants into the World Cup. As we approach these crucial three weeks worth of games, it's worth noting that every team could still work their way into the cup. And so we present (from most likely to least likely) the scenarios for who will qualify from the AFC
Already Looking At Airfares
Japan (Remaining Matches (6/4--v. Australia; 6/11--@Iraq)
They Qualify If: They get 1 point from either remaining match
They Go to a Play-off If: They lose both matches and Jordan & Iraq win all remaining
They Stay Home Next Summer If: A giant prehistoric lizard thing rises up from the Pacific and decimates Tokyo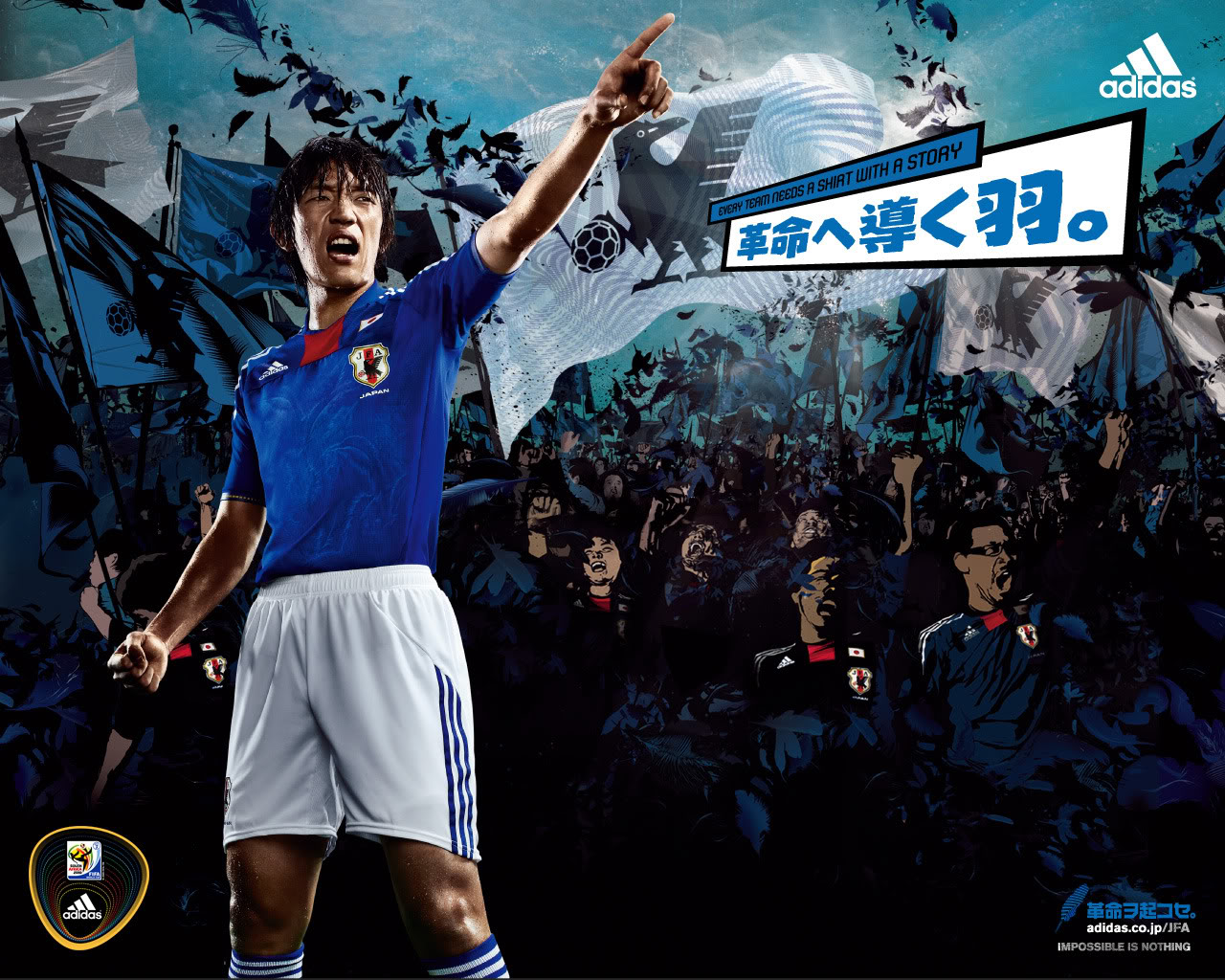 THAT WAY TO BAGGAGE CLAIM!
Confederation champions, top of their group, persistent qualifiers and all around dominant force of Asian football, Japan
really is pretty good to go. It would take a pair of crippling losses to Australia and Iraq coupled with Jordan and Australia winning out in huge fashion to knock them down to the play-in games. (Since Jordan and Australia play eachother on June 11th, they'll have to do something pretty fancy in order to both win.) Realistically, if you love Japanese football, you can start booking plane tickets, pricing thongs, stocking up on sunscreen and taking Samba lessons because barring a total disaster, you're going to Brazil next summer.
A Game in Hand is Worth Two in the Bush...or Table Or Something
Right next to Japan in the pantheon of Asian football powers, South Korea and Australia are pretty solid bets for any World Cup now-a-days. And though neither are at the top of their qualifying tables, both have three games left to gain points and get into the final round of competition.
South Korea (Remaining Matches [6/4--@ Lebanon; 6/11--v. Uzbekistan; 6/18--v. Iran])
They Qualify IF: They get a couple wins in their last matches
They go to Play-off IF: They get three points
They Stay Home Next Summer IF: Kim Jong Un gets an itchy trigger finger
All South Korea really needs is a point from each of their three final matches (@ Lebanon and home for Uzbekistan and Iran) and they're golden. Well...actually, all South Korea needs is a point from each of their final three matches AND somebody to eliminate all the nukes in North Korea and they're golden. And hey, hit four points and you don't even need to worry about the continental play-off.
Australia (Remaining Matches [6/4--@ Japan; 6/11--v. Jordan; 6/18--v. Iraq])
They Qualify IF:
They meet expectations
They go to Play-off IF:
They continue to underwhelm
They Stay Home Next Summer IF:
The wheels fall off the wagon, the shrimp fall off the barbi, and the Fosters plant moves to Holland.
Things are slightly trickier for the Socceroos who have to start with Japan (in a definite struggle that might see them slip out of even third place). But their final two matches (at home versus Jordan [who can't win away from Amman] and Iraq [already beaten by Australia]) offer plenty of points to a merely competent Australian squad.
"Donnie, You're Out of Your Element!"
Unlike the first three teams I wrote about, Uzebekistan and Jordan would be big dance debutants should their current positions hold. But they have one less game to play than their more experienced rivals, and they have little control over what really happens.
Uzbekistan (Remaining Matches [6/11--@South Korea; 6/18 v. Qatar])
Do you recognize these men?
They Qualify IF:
The young guns like Sanzhar Tursunov and Farhod Tojiyev pull out at least one big win.
They go to Play-off IF:
The old timers like Server Djeparov and Timur Kapadze refuse to let a great start go wrong and get at least a point from each match.
They Stay Home Next Summer IF:
All the players want to avoid awkward mispronunciations of their names on international television and they tank the last couple matches
Uzbekistan's youth program has been impressive of late and may make for a compelling dark horse in Brazil. But to get there they'll likely need at least three points to put themselves in the playoffs, and rather than banking on a win in Seoul on the 11th, they'll likely gear up for a more winnable match against Qatar in Tashkent on the 18th.
Jordan (Remaining Matches [6/11--@ Australia; 6/18--v.s. Oman
They Qualify IF:
They finally pack their A-Game on the road and defend home turf (as usual)
They go to Play-off IF:
They defend home but continue to scuffle on the road.
They Stay Home Next Summer IF:
They scuffle both home and away.
Meanwhile Jordan's Al-Nashama (The Chivalrous) have a more closely packed group with three teams behind them, all within two points of second place. Having failed to get a single point on the road in this group, Jordan has to head for Melbourne on the 11th, before closing out with Oman on the 18th. To be fair, the Socceroos have drawn both of their home ties this campaign, so a point in Melbourne isn't out of the question, but if The Chivalrous want to make King Abdullah proud, they definitely need the win in Amman (and then hope for a fair shot in the continental play-offs)
Literally...Everything to Play For
Iran (Remaining Matches [6/4--@ Qatar; 6/11--v. Lebanon; 6/18--@ South Korea])
They Qualify IF:
They want to live like heroes
They go to Play-off IF:
They want to live
They Stay Home Next Summer IF:
They want to live like heroes of a revolution
Iran has a long and storied history in international football (like Japan, South Korea and Australia); they also have three games still to play (like South Korea and Australia), but they have a slightly more challenging task ahead of them. They're already 3 points back of South Korea, and need multiple results in their favor to pull ahead of Uzbekistan. They have to face the two underdog teams in Lebanon and Qatar whose whole campaigns hinge on beating Team Melli, before finishing IN South Korea.
Khameni prefers a 4-3-4
Then there's this: Iran's presidential election is scheduled for June 14th (between the Lebanon and South Korean matches). It will be the first election in Iran since the Arab Spring and the Green Revolution that threatened full scale rebellion during the last election (2009). Mahmoud Ahmadinijad will not be running. The Aytollah has blocked genuine reformers including former president Akbar Hashemi Rafsanjani from candidacy. And the national team includes Masoud Shojaei and Captain Javad Nekounam who both suddenly "retired" after supporting the Green Revolution protestors publicly during their last qualifying campaign. Add to all of this the fact that qualifying for the World Cup is a welcome distraction from domestic troubles, but failing to qualify for the World Cup kind of, sort of, endangers really any ruling party in any country anywhere.
SO! If Iran beats Qatar and Lebanon, not only will they qualify for at least the continental play-offs, but the elections likely go off without a hitch, protecting players for another year or more and installing another hardline reformer who follows the will of the Ayatollahs. If Iran drops either or (inshallah) BOTH games, the populace (particularly young men with nothing better to do) will likely be dissatisfied, the elections are jeopardized and Shojaei and Nekounam (plus any other idealistic young athletes) have to face the awkward decision of whether they stand up with their fellow citizens and risk expulsion from the team [again] OR if they shut up and play out the string as their country roils from the inside out.
That's a little bit of pressure, wouldn't you say?
Clinging to the Cliff Face
I kind of want in on this party!
Oman (Remaining Matches [6/4--v.s. Iraq; 6/18--@Jordan])
They Qualify IF:
They dominate their last two opponents and run up the goal differential
They go to Play-off IF:
They just take care of business
They Stay Home Next Summer IF:
They decide they don't want to allow jabronis around the world to shout "Oh, man! Oman lost again!" and throw the last two matches
As we noted with Jordan, there are four teams bunched within 2 points of each other. And all that comes to a head when Iraq and Oman square off in Muscat on the 4th of June. A win for Oman and they can write their own ticket, they'll be just a point in Jordan away from a minimum 3rd place finish.
Iraq (Remaining Matches [6/4--@Oman; 6/11--v.s. Japan; 6/18@Australia])
They Qualify IF:
They rule and their opponents drool.
They go to Play-off IF:
They do well and their opponents do slightly less well...
They Stay Home Next Summer IF:
They are average and their opponents are a little better than that.
Meanwhile, a win for Iraq puts the recent Asian title holders on a brutal final set of matches, at home versus Japan and in Australia. Best case scenario: Iraq beats Oman while Japan wraps up their qualifying with a win over Australia. Then Japan rests their stars allowing Iraq an easy three points in the second match, setting up a decisive final match against Australia (who pull a measly draw with Jordan in their second match), with momentum going all the way of the Lions of Mesopotamia. Worst case scenario: literally anything else happens.
Qatar (Remaining Matches [6/4--v. Iran; 6/18--@Uzbekistan])
They Qualify IF:
They shock they world
They go to Play-off IF:
They mildly surprise the world
They Stay Home Next Summer IF:
They totally underwhelm the world
And then there's Qatar the little nation that wants so badly to prove they aren't the corrupt ne'er-do-wells who swiped away the 2022 World Cup from other countries. Their chance to prove exactly that starts on the 4th in Doha where a win over Iran would go a long way to improving their odds (and ruining Iran's). Provided that Iran and Uzbekistan scuffle in their June 11th matches (against Lebanon and South Korea respectively) that sets the stage for Qatar to slip in if they win big in Uzbekistan on the 18th.
Slim To None
Lebanon (Remaining Matches [6/4--v.South Korea; 6/11--@Iran])
They Qualify Directly IF:
They refuse to lose and other teams refuse to win
They go to Play-off IF:
They refuse to lose and one team stubbornly meets expectations
They Stay Home Next Summer IF:
They accept their own limitations and find satisfaction in their accomplishments to this point.
We've been driving the
Lebanon
bandwagon for over a year and a half now. But there is only one path that can get our beloved Cedars into a qualifying scenario. They need to win their last two matches: against South Korea in Beirut and at Tehran and then hope that Qatar and Iran draw their own match (June 4th during the South Korea game) and lose/draw the rest of the way.
Any outright victory for either the Qatari or the Iranians and Lebanon would have to get a massive swing in goal differential, or a horrific plague of gout in the other countries...so, better win now.
Those are all the ways that Asian qualification could end. And while we would love to see Japan, Australia, South Korea, and the Uzbeks make it in (with Lebanon squeaking into the intercontinental playoffs) We have to admit, it's a tetchy possibility at best.
One thing's for sure. Monday Morning Futbol is going to be a whole lot of fun for the next three weeks.