Nickname
:
El Tri
is a major brand in North America...but until they fight Ecuador's "La Tri" we will never know which article is the appropriate one.
Star
: The first Mexican bred player to star on the most star studded line-up on the planet (Manchester United)
Javier Hernandez
is a god in Mexico...or rather...he was until the team's abysmal showing in qualifying left his reputation with a black eye and Mexican football in disarray. Add to that a paltry 4 goals in 24 appearances this year and the golden boy of Mexican football is still a star, albeit a diminished one.
Chunky What?
Hip-Star:
For all the media's fawning over "Chicharito" he can't do much if he never gets the ball...and that's a task that falls to one of the youngest midfields in the entire cup. Six players with a combined 53 caps will take charge there, and most important of all is
Marco Fabián
who will need to keep his cool like a Michocana Vanilla and Quince Bar. You have had one of those right? Oh, well...I'm sure regular Ben and Jerry's is good too...I wouldn't know, I think they're too corporate.
X-Factor:
In writing these posts I've been surprised at the consistency with which teams have held onto their coaches. Four years ago several teams jettisoned the men who got them to the Cup with mere months to go...not so this year...except for Mexico. Their
four coaches in the past year
--okay...four coaches in the month of October--have made an extremely unstable squad. Whether they've finally figured it out or falter...again, we'll see soon.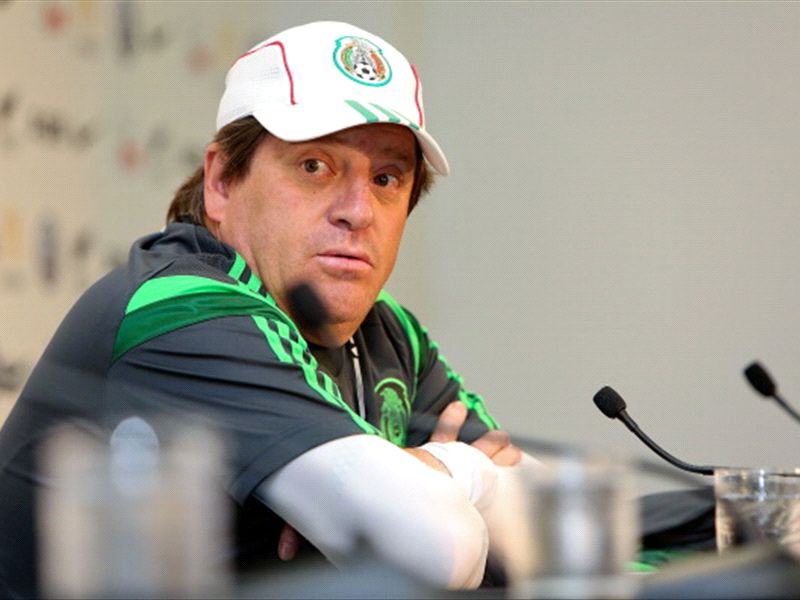 Herrera just heard a twig snap
Coach:
The current man of the moment (and I do emphasize
moment
) is
Miguel Herrera
. While he has had a long career in Liga MX, so did his predecessors. While pummeling New Zealand punched their ticket, New Zealand won't be around to beat up this June...so who knows what comes next.
History:
Mexico has made the World Cup Round of 16 every 4 years like clockwork since 1994. For 20 years it's been tradition...In fact in 14 World Cups they have
never finished worse than 16th
. While I'm an American and an ardent chanter of dos-a-cero, this does not feel like a clockwork Mexican team.
Food:
Okay people, for the last time: Taco Bell does NOT count. Instead, we're going to partake in
Xocotal
--an Aztec chocolate drink (with green pepper and vanilla to complicate the flavor)
I know it's not flattering...but
neither is her record
Fool:
I'm a teacher, and I'm proud to have just received tenure. That said...I don't think I should have tenure for life, or be able to hand pick a friend/family member as successor to my position--regardless of any training they have or ability, nor do I think that my union leaders should be able to embezzle my contributions to buy Jet Skis. So sorry,
Elba Esther Gordillo
I do not want to work with you.
Best Case:
Miguel Herrera has a magic touch and helps to turn around a disastrous qualifying campaign with a sterling World Cup case. Chicharito and Giovanni dos Santos turn in a bushel of goals each, they earn a strong draw with Brazil and almost pull off a stunner against Spain before getting their traditional
Round of 16
.
Worst Case:
Chicarito is rusty, dos Santos gets hurt, the previous gold medalists (including the previously mentioned squadron of midfielders) is so shell shocked they never recover their careers and a lousy cup gets even worse as Mexico
spirals into the cellar of CONCACAF
behind Panama, El Salvador and even the Carribbean islands.
My prediction:
Fears (or rather hopes) of Mexico's destruction are likely a little overblown. But while they've gotten themselves back in shape of late, they haven't had to do it with the pressure of an international tournament on the global stage. Even a strong showing against Cameroon may be undercut by Brazilian dominance in the second match, sending the fragile El Tri to
4th place--1 point
Added Bonus
: Continuing our walk down old school lane, here's "Orale" from
Johnny Z
one of the primogenitures of Chicano hip-hop