Nickname
: Though they might like to be known as "Selação", Brazil actually has that locked down. So we'll go with
Os Navegadores
--"The Navigators"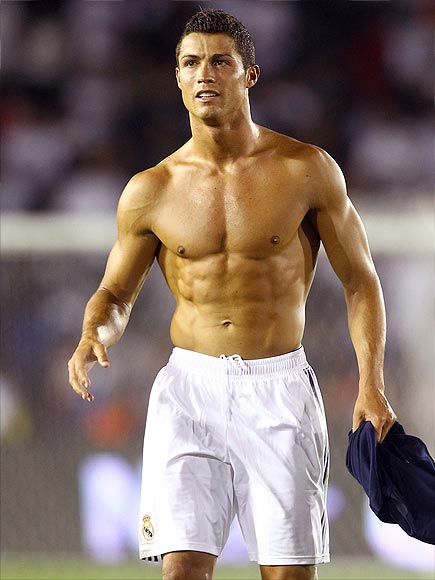 The world's only
unphotoshoppable human
Star:
The fourth and final "futbol player everybody knows" is literal golden boy
Cristiano Ronaldo
, who manages to combine the athletic prowess of a prize fighter/ballet dancer with the absurd good looks of Derek Zoolander/James Bond. He's easy to make fun of, because he is easy to feel jealous of.
Hip-Star:
Oh, yeah...Cristiano Ronaldo...ooh, he's so talented, ooh, he's so good looking...oooh...but do you really think he's going to stop the brutally efficient German attack? The speeding Ghanaian wingers? The gritty American scrapiness? No...he's too busy winking and flexing for the cameras. That's okay as long as defensive midfielder
Miguel Veloso
plays his game, not that you'd notice if you only judge players on how deep their dimples are...silly sheeple.
X-Factor:
One of the greatest clichés in futbol is that
one man can't win the game
on his own. Though Portugal has certainly challenged that philosophy lately, riding Ronaldo and a host of complementary pieces to a number 3 FIFA ranking. A more complete team got fourth place in 2006, a less effective one got to the second round in 2010...will supporting players rise up, or fade away?
Coach:
For a former defensive midfielder,
Paolo Bento
is bedeviled by mediocre defending and giving away goals in heaps, first with Sporting Lisbon and again in qualifying (ceding 4 to North Ireland, and 3 to Israel) as they finished second behind Russia and needed all of Ronaldo's scoring acumen to send them through.
Norwegians don't do this with cod...
History:
While the 70s and 80s were a fallow period for Portugal, four straight qualifications and a chunk of European glory has made them far more notable in the past decade particularly their
4th place finish
in 2006.
Food:
A little breakfast food never went amiss, and it's been far too long since I thought about fish so let's try
Bacalhau à Brás
. Taking potatoes, scrambled eggs and the ubiquitous treat of Portugal: dried Cod.
Fool:
As Portugal tends to be more or less manageable and considerate of one another they don't fit most of our "fool" types. So, it's with nostrils pinched that we point the finger at
Pedro Passos Coehlo
for being the man in charge at the fall of the Portugese economy. Sorry Pedro.
Best Case:
Cristiano Ronaldo does everything Nike and Cristian Dior and Rolex and Gillette could ever want. Single handedly netting game winners in every group match, and then knocking off every rival in the knockout stages (culminating in that other selacao) en route to Portugal's first
World Championship
.
Worst Case:
Ronaldo tweaks something on his first warm up jog around the track and the rest of Portugal collapses around his absence. Getting pummeled into
last place
by Germany, the US and even Ghana and flying home in tears as Brazilians chant insults at their erstwhile oppressors.
My prediction:
Fear not sponsors, super-shiny Christiano Ronaldo will play more than three games--not even a shock upset from the US will derail that dream. But they won't play more than 4, as the super-shiny upset darlings of Belgium pounce on Portugal's main weakness...overconfidence.
2nd Round
Added Bonus:
In my (extremely brief) survey of Hip Hop Tuga, it seems that artists rely heavily on intros, hooks and slowly set up the beats. Bear that in mind when you hear
Sam the Kid's "Jungle Fever"