Nickname: Los Ticos take their nickname from the nickname for the entire country, a little like America's being the Yanks, or the French being the Frogs.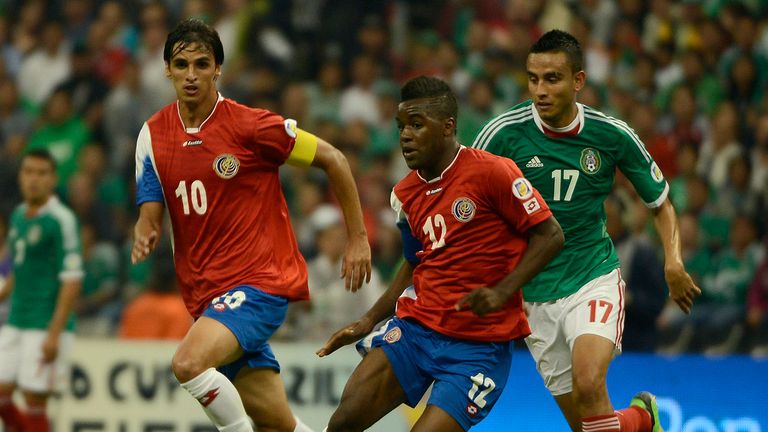 Ruiz (L) and Campbell (R)
Star:
Captain and star striker
Bryan Ruiz
has definitely flown the highest, topping squads in Holland and making a strong showing for a season or so with Fulham. Now that he's joined by Olympiakos wunderkind
Joel Campbell
he's a little more free to use his experience to tear up rival defenses.
Hip-Star:
The most capped mid-fielder in the Costa Rican line-up is also one of it's youngest. At 25
Celso Borges
already has 61 appearances in the Red, White and Blue. His experience, value to the run of play and the fact that he plays for AIK (oh, you haven't heard of AIK, it's only like...
the
Swedish Club) and has some valuable European league experience makes him an obvious choice.
X-Factor:
Life on the road
is not terribly kind to Costa Rica. While they love the home cooking of life at home, they haven't taken a point from a World Cup qualified opponent since a draw against Mexico in Estadio Azteca back in June of 2013. And a trio of losses against Chile, South Korea and everybody pundit's whipping boy--Australia--don't bode well either. They'll need to win on hostile territory to have a chance.
Ahora, como se cuesta
el refrigerador actualmente?
Coach
: As Colombia turned from locals to foreigners, their last Cup Qualifying coach turned a little farther north for his next chance.
Jorge Pinto
did the needful this time around, getting the Ticos back to the Mondiale. The fact that he looks like he should follow every match by announcing the winner of a brand new Dodge Durango on Costa Rica's version of
The Price Is Right
is an added bonus.
History:
Even though they only have three appearances to their name, Costa Rica have quietly established themselves as the third point in the North American Triangle (alongside historic leaders Mexico, and the obviously empowered Americans).
Three Cups in four tries
(and a heartbreaking playoff loss to Uruguay) suggest that they're becoming a fixture--now if they can just get out of the first round.
Hearty enough for even Group D
Food
: Though this World Cup will be aired at manageable times, there's still a part of me that will miss soccer with breakfast. Fortunately,
Gallo Pinto
(a breakfast-y mix of rice, beans, onions and red peppers) seems like a perfectly satisfying side-dish anytime of day.
Fool
: I'm writing this on the eve of Luis Guillermo Solís' inauguration as Costa Rica's first president from a third party in history. He's too new to be mockable, but the insatiable Presidency of
Óscar Arias
--he of the Noble Peace Prize in 1987 and the Grover-Cleveland-Esque Nonconsecutive Terms-- is...seriously, Óscar, get your muttonchops in order.
Best Case:
After stunning an overconfident Uruguay, the momentum carries them to a draw against Italy and a victory over equally unlucky England giving them a shot in the second round.
Worst Case:
The odd man out of the powerhouse Group D, Costa Rica is picked on worse than a little brother asking out his first date, Ruiz and Cambell never get going and the squad heads home for three more years of waiting.
My prediction:
Los Ticos are perhaps the most underrated side in the CONCACAF, and perhaps the unluckiest side in the World Cup, getting slotted with three teams who each have a claim to be title contenders. They'll make it difficult for someone, but not easy for themselves.
4th in Group--1 point
Added Bonus
: Producer Bloke and Star Tiko305 team up for easily the most cinematic video yet in our Hip-Hop World Cup